Wythe's Library
From Wythepedia: The George Wythe Encyclopedia
George Wythe supported his voracious reading habits with an extensive personal library[1] but, if he made any record of its contents, that has not been found. When Wythe died in 1806, he bequeathed all his books to his favorite protégé, Thomas Jefferson.[2] For 200 years, very little was known about Wythe's library other than its existence within Jefferson's massive collection.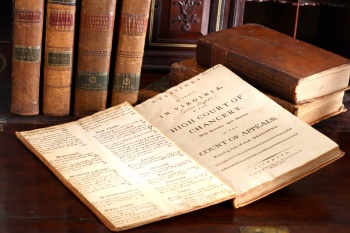 Colonial Williamsburg attempted to identify specific titles as early as 1958 when Mary R.M. Goodwin, a senior researcher at the Rockefeller Library, wrote The George Wythe House: Its Furniture and Furnishings. Goodwin listed 54 titles and divided them into three categories: law books, journals, and miscellaneous. Within these categories, Goodwin identified several of the known surviving Wythe volumes. Goodwin's research laid the foundation for another Colonial Williamsburg attempt at reconstructing Wythe's library. In an internal memo[3], Barbara C. Dean expanded Goodwin's list to 189 titles by utilizing the published papers of Wythe's students and adding titles illustrative of the time.
Until 2008, the Goodwin and Dean bibliographies represented the extent of known information regarding Wythe's library. That changed with the discovery by Endrina Tay, a librarian at Monticello's Jefferson Library, and Jeremy Dibbell of the Massachusetts Historical Society, of a manuscript list in the hand of Thomas Jefferson which appeared to document dispersal decisions Jefferson made regarding Wythe's books.[4] Jefferson's inventory identifies 338 titles (649 volumes) with brief notations. In some cases, specific titles and editions can be derived from Jefferson's entries. In other instances, mystery remains.[5]
Tay and Dibbell's discovery led to the creation of two further bibliographies: George Wythe on LibraryThing which combines titles from the Jefferson inventory with other known items, and "The Library of George Wythe of Williamsburg and Richmond," an unpublished compilation by Bennie Brown, from the Bookpress Ltd. in Williamsburg.[6] Brown conducted extensive research, visiting each of the libraries with known or suspected Wythe volumes. He also combed primary sources, including the published legal records of Wythe's decisions and his arguments for the plaintiff in Bolling v. Bolling. The most recent version of Brown's bibliography includes 478 titles and provides much of the substantiating evidence for the Wolf Law Library's George Wythe Room.
Art
Astrology
Case Reports, Digests, and Statutes
England
Abridgments
Court of Chancery
Court of Common Pleas
Court of Exchequer
Court of King's Bench
Multiple Courts
House of Lords
Statutes
United States
Virginia
Abridgments
Case Reports
Statutes
Cooking
Dictionaries and Encyclopedias
Legal
Other
Economics and Finance
Geography and Travel
Government
History
General
American
Ancient
British
European
French
Italian
Language and Rhetoric
Legal Treatises
General
Administration of Criminal Justice
Civil Law
Civil Procedure
Commercial Law
Constitutional Law
Contracts
Courts
Criminal Law
Ecclesiastical Law
Equity
International Law
Property
Roman Law
Torts
Virginia Law
Wills
Literature
American
English
French
Greek
Italian
Latin
Scottish
Spanish
Mathematics and Engineering
Philosophy
Religion
Science and Medicine
See also
References
External links