A Collection of All the Acts of Assembly, Now in Force, in the Colony of Virginia with the Titles of Such as are Expir'd, or Repeal'd.
From Wythepedia: The George Wythe Encyclopedia
General Assembly of Virginia
The Collection of Acts was published in 1733 at the order of the Virginia General Assembly and includes the years 1661-1732.[1] The collection covers the reign of Charles II through the reign of George II, a crucial period in the history of early Virginia.[2] The laws demonstrate the tumult of the early colony, including various uprisings and plots. These included the ever tenuous relationship between natives and settlers. Notably, the Collection discusses the 1663 Gloucester County Servant's Plot and the aftermath of Nathaniel Bacon's 1676 rebellion.[3]The Collection also discusses an unsuccessful plot to cut up all of the tobacco plants in the colony, an act that "hazard[ed] the subversion of the whole Government, and Ruin and Destruction of his Majesty's good Subjects."[4]

Despite these challenges to the government of the colony, the Collection reveals increasing stability and prosperity, with greater standards and control over industry, society, and government. Along with this transition came the increasing permanency of slavery and the centrality of tobacco in the economy. For example, a 1662 statute reflects the increasing permanency of slavery in Virginia.[5] It provides that people are born slave or free according to the condition of the mother.[6] Another act declares the Negro, Mulatto, and Indian Slaves within the dominion of Virginia to be subject to the law of real estate.[7]

The Collection reflects the law-driven nature of the young colony. This distinguishes early Virginia from the precedent-driven England, a feature of the colony caused by "the conditions which affronted the colonists – conditions which afforded no precedent to which the lawmakers could turn, but which had to be met with new provisions of law." [8] Thus, the laws deal with the variety of issues the colony faced, including numerous rules on the establishment of the Church of England, the creation of churches and glebe lands, and burials.[9] In addition, the laws provide rewards for killing wolves and preventing those owing credit to others from escaping to other counties.[10] In addition, the Assembly passed laws adopting English weights and measures, including a method for determining the exchange rate between pieces of eight and English currency.[11]
Evidence for Inclusion in Wythe's Library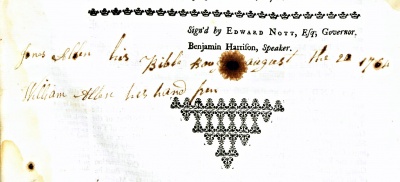 Description of the Wolf Law Library's copy
Images of the library's copy of this book are available on Flickr. View the record for this book in William & Mary's online catalog.
See also
References