Poems and Compositions in Prose on Several Occasions
From Wythepedia: The George Wythe Encyclopedia
by William Munford
William Munford (1775-1825) published his collection of original poems in 1798 at the age of twenty-three.[1] The earliest poems reflect Munford's experiences both in the American Revolution and as a poor student.[2] Munford's poems often had a political bent; "The Politician in Distress" was a thinly veiled attack on Alexander Hamilton, who Munford believed was "intent on state pollution."[3]
Munford's collection also reflects his interest in the classics, and includes translations from Horace and Ossian and a five act tragedy.[4] Although the work was "[d]esigned to benefit his readers, enhance his reputation, and afford economic return, it was, . . . a rather juvenile adventure into the realms of literature."[5] One poem, in particular, addressed to Miss S___n W___n of Halifax county, demonstrates the youth of the author.[6] Entitled "The Apology," it is a public explanation for his actions at a ball, which resulted in his partner feeling forsaken by him.[7]
Poems and Compositions in Prose on Several Occasions hints at the literary abilities of a man who would go on to make significant contributions to both law and classical scholarship.[8]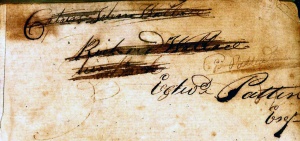 Evidence for Inclusion in Wythe's Library
There is no concrete evidence that George Wythe owned William Munford's Poems and Compositions in Prose on Several Occasions. However, Munford, a former student of Wythe's and the man who delivered Wythe's eulogy, almost certainly gave a copy of his poems to his mentor and "second father." Munford lived with Wythe for several years and was indebted to the older man for his education.[9] The Wolf Law Library chose to recognize this relationship and purchased a copy of the first edition (1798).
Description of the Wolf Law Library's copy
Bound in quarter calf with original paper boards. Includes previous owners' signatures on the front free endpaper some of which have been struck through.
Images of the library's copy of this book are available on Flickr. View the record for this book in William & Mary's online catalog.
See also
References