Antōninou Liberalis Metamorphōseōn Synagōgē = Antonini Liberalis Transformationum Congeries
From Wythepedia: The George Wythe Encyclopedia
by Antōninou Liberalis
Antoninus Liberalis (fl. 100 – 300 AD) was a relatively un-explored Greek writer who wrote a collection of Greek mythical narratives, most likely during the reign of Roman Emperor Antoninus Pius between 137 and 161 CE.[1] These Greek-language myths pertain mostly to metamorphoses, and are significant in comparison to other metamorphoses (such as those by Ovid) due to the "somewhat unusual twists" on the characters.[2] Most of Antoninus's myths are short and somewhat repetitive and "monotonous" with a high frequency of bird metamorphoses and offended gods.[3] However, his works are made unique with the explanation of obscure local legends. [4]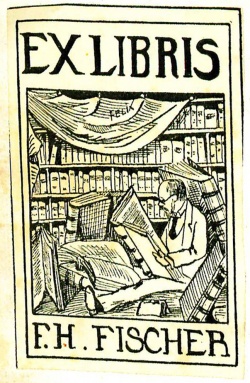 This particular edition of The Metamorphoses of Antoninus Liberalis was printed in the original Greek and translated into Latin in Amsterdam in 1676. In 1992, for the first time, his Metamorphoses were translated into English and commented on by Francis Celoria.[5]
Evidence for Inclusion in Wythe's Library
Listed in the Jefferson Inventory of Wythe's Library as "Antoninus. Gr. Lat. 12mo." and given by Thomas Jefferson to his grandson Thomas Jefferson Randolph. The precise work and edition are unknown. George Wythe's Library[6] on LibraryThing includes Antōninou Liberalis Metamorphōseōn Synagōgē by Antoninus Liberalis as the "probable" work, noting "Precise edition unknown." The Brown Bibliography[7] instead suggests the 1744 edition of Marci Antonini Imperatoris eorum quæ ad Seipsum Libri XII by Marcus Aurelis Antoninus based on a copy owned by Jefferson and sold to the Library of Congress.[8] Brown notes "the title on the Wythe list is vague." In this case, the Wolf Law Library followed LibraryThing's recommendation in part because Jefferson listed the Wythe title as "Antoninus" while he recorded the title sold to the Library of Congress as "Marci Antonini Commentarii ad Seipsum". The difference suggests that Jefferson was recording two different authors. A second reason to support LibraryThing's conclusion is that Wythe seems to have been particularly interested in Greek literature. His library included a greater number of Greek literary works than historical texts. For these reasons, the Wolf Law Library purchased the 1676 edition of Antōninou Liberalis Metamorphōseōn Synagōgē when a copy became available.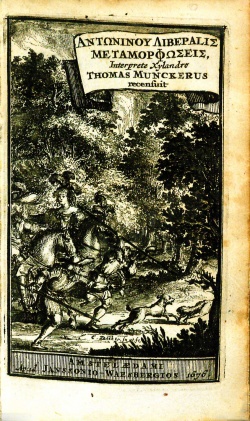 Description of the Wolf Law Library's copy
Bound in contemporary vellum with the gilt cypher of Hoorn on both boards. Title inscribed on spine in ink. Includes a Latin inscription of the front free endpaper and the bookplate of F. H. Fischer on the verso of the front free endpaper.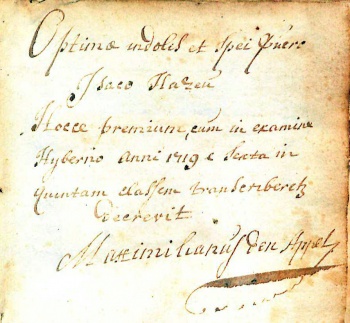 Images of the library's copy of this book are available on Flickr. View the record for this book in William & Mary online catalog.
See also
References