A Treatise of the Laws of England, on the Various Branches of Conveyancing
From Wythepedia: The George Wythe Encyclopedia
by John Perkins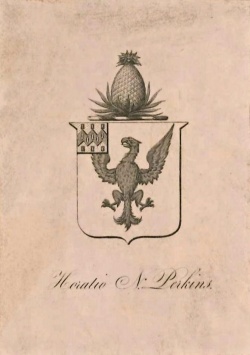 John Perkins's childhood is undocumented, although it has been said that he was born to upper class parents and studied at Oxford. He was admitted to the "
Inner Temple
" about 1518, but did little to distinguish himself as a barrister from that point on. By the late 1530's Perkins was residing and practicing in Oxford. By this time in his life he had become mentally unstable, and his behavior erratic. In a letter written in 1537 he suggested suppressing an uprising in the north by killing women and children and raising and maintaining a contingent of archers and halberdiers at Oxford and Cambridge. A baseless accusation of treason and vices against two local abbots led to both his imprisonment and the end of his career. He died in 1545.
[1]

Perkins' only known work, A Profitable Booke of Mr. John Perkins, sometimes Fellow of the Inner Temple. Treating of the Lawes of England, covers a range of topics, including grants, deeds, exchanges, and surrenders. Focusing on land law, it may have been intended to complement Littleton's more highly esteemed Tenures.[2] Perkins dealt with aspects of conveyancing that Littleton did not.[3] Despite Perkins' abysmal reputation, the book became very popular and was widely in use many years after his death. It received qualified praise from many sources and was considered a source of legal authority. Sir Edward Coke referred to it as being "wittily and learnedly composed,"[4] stating that it "ought in general to have considerable weight."[5]


Evidence for Inclusion in Wythe's Library
Listed in the Jefferson Inventory of Wythe's Library as "Perkins's treatise on the law of England. p.f." and kept by Thomas Jefferson. Jefferson sold a copy to the Library of Congress, but it no longer exists to verify the edition or Wythe's previous ownership.[6] The Brown Bibliography[7] lists the 1621 duodecimo edition of A Profitable Booke of Mast. Iohn Perkins, Fellow of the Inner Temple. Treating of the Lawes of England and notes that Wythe cited to Perkins in his arguments for the plaintiff in Bolling v. Bolling, "...the property of Emblements is distinct from the ownership of the soil. ...Park. 512."[8] Brown also found references to Perkin's treatise in the manuscript copy of John Marshall's law notes. George Wythe's Library[9] on LibraryThing includes the later title A Treatise of the Laws of England, on the Various Branches of Conveyancing, indicating "Precise edition unknown." Since the specific edition cannot be verified, the Wolf Law Library moved a copy of the 15th edition (1792) from the general rare books collection to the George Wythe Collection. If Wythe used his own copy in Bolling v. Bolling, or if Marshall referenced Wythe's copy, the 1792 publication cannot have been the edition owned by Wythe.
Description of the Wolf Law Library's copy
Nineteenth century rebind in half-leather with marbled paper over boards. Spine features raised bands with gilt lettering and blind rules. Includes bookplate of Horatio N. Perkins on the front pastedown. Inscribed on front flyleaf with description of the book. Title page signed "H. N. Perkins, 1840."
Images of the library's copy of this book are available on Flickr. View the record for this book in William & Mary's online catalog.
See also
References
External Links
Read the fourteenth edition (1757) of this book in Google Books.