George Wythe Collection
From Wythepedia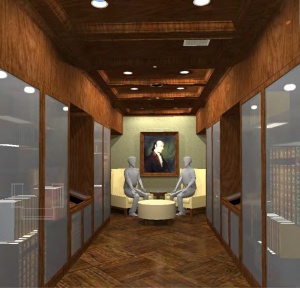 In 2005, the Wolf Law Library began a project to replicate the library of William & Mary's (and America's) first law professor, George Wythe, who assembled one of the most important libraries in eighteenth-century Virginia. Wythe's library of more than 450 titles, including Western classics, history, philosophy, science, mathematics, and law had a direct impact on the development of Virginia law and the law of the new nation.
The George Wythe Collection focuses on items of a legal nature, but we also actively collect titles in history, philosophy, and political science. The chancellor's library consisted of more than 450 titles. Although roughly half of the titles Wythe owned fall outside the primary goals of our collection—geography, mathematics and science, for example—we do acquire some of them to illustrate the breadth of Wythe's interests.
Collection Priorities:
Titles showing a definite connection to George Wythe: The Wolf Law Library makes every attempt to duplicate the exact edition and impression of all items with a proven connection to Wythe. This group includes titles written by Wythe; those he collaborated upon; volumes known to possess Wythe's signature, his armorial bookplate, or inscribed notes attributed to him; and works that include Wythe's name among the published list of subscribers.

Titles identified in Jefferson's manuscript list: We collect titles identified by Thomas Jefferson's manuscript list detailing his dispersal of George Wythe's library. Where the specific edition Wythe owned is unknown, we limit consideration to those works published before Wythe's death in 1806 and prefer those titles/editions known to have been owned by Jefferson (see Sowerby) or the recipient he listed. If no specific edition/title information exists for these copies, we prefer those editions/titles identified in contemporary Virginia libraries. When none of these options identifies an edition or title, we will collect the most valuable edition of a given work that might have been part of the Chancellor's collection.

Titles noted in the commonplace books or other writings of Wythe's students: We collect those titles specifically noted by Wythe's students in existing papers and commonplace books that do not fall into categories 1 or 2. If the student note postdates that student's educational association with Wythe, every attempt will be made to verify the title through other resources.

Titles quoted or mentioned in Wythe's case reports: We collect those titles to which the Chancellor refers or alludes in his published case reports if the titles do not fall into categories 1, 2, or 3.

Titles representative of Wythe's time: We collect titles represented in law libraries of the eighteenth century if those titles do not fall in the above categories.


Titles in the Wolf Law Library's Collection
Art
Astrology
Case Reports, Digests, and Statutes
England
Abridgments
Court of Chancery
Court of Common Pleas
Court of Exchequer
Court of King's Bench
Multiple Courts
House of Lords
United States
Virginia
Cooking
Dictionaries and Encyclopedias
Legal
Other
Economics and Finance
Geography and Travel
Government
History
General
American
Ancient
British
French
Italian
Language and Rhetoric
Legal Treatises
General
Administration of Criminal Justice
Civil Law
Civil Procedure
Commercial Law
Constitutional Law
Contracts
Courts
Criminal Law
Ecclesiastical Law
Equity
International Law
Property
Roman Law
Virginia Law
Wills
Literature
American
English
French
Greek
Latin
Scottish
Spanish
Mathematics and Engineering
Philosophy
Religion
Science and Medicine
External Links