A Dissertation Upon Parties: in Several Letters to Caleb D'Anvers, Esq.
From Wythepedia: The George Wythe Encyclopedia
by Henry St John, First Viscount Bolingbroke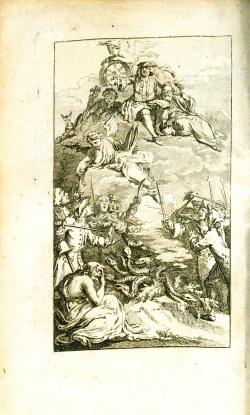 A Dissertation upon Parties
was originally published in 1733 in the form of nineteen letters. It was notable for its sustained attack on the policies of
Robert Walpole
, commonly considered the first prime minister of England, and in its calls for leaders of the Whigs and Tories (England's two leading political parties at the time) to work together in an effort to renew constitutional safeguards weakened due to corruption within the British government.
[1]
It was written by
Henry St John, 1st Viscount Bolingbroke
(1678–1751), a leader of the Tories and renowned English politician and political philosopher.
[2]

Becoming a Member of Parliament in 1701, Bolingbroke subsequently served in the positions of Secretary of War and Secretary of State of both the Northern and Southern Departments.[3] Bolingbroke was forced to flee to Paris in 1715 after being charged with treason for supporting the Jacobite rebellion that sought to overthrow King George I, but he was pardoned eight years later and returned to England.[4] A prominent member of the "country party," a group of Tories and disaffected Whigs who opposed what they perceived as the self-interested actions of England's politicians and parliamentary leaders, Bolingbroke's ideas were presented in A Dissertation upon Parties along with several other essays he published around the same period.[5]

While the ideology expressed in A Dissertation upon Parties proved to have limited sway over English thought, it was very influential in the American colonies where Bolingbroke's writings were widely read by the likes of John Adams, Thomas Jefferson, and James Madison.[6] His warnings concerning corruption within the British Court were particularly significant in the development of the political philosophy of Republicanism (the belief that citizens elect their leaders, and that the citizenry are entitled to certain unalienable rights that cannot be deprived by any form of government),[7] a central tenet of the American Revolution and the system of values it fomented.
Evidence for Inclusion in Wythe's Library
Listed in the Jefferson Inventory as [Bolingbroke]'s Dissertation on parties. 8vo. and given by Thomas Jefferson to his son-in-law Thomas Mann Randolph. It later appears on Randolph's 1832 estate inventory as "'Dissertation on parties' ($1.50 value)." We cannot determine the precise edition Wythe owned from the information available. Brown's Bibliography[8] lists the 8th edition (1754) based on the copy Jefferson sold to the Library of Congress.[9] George Wythe's Library[10] on LibraryThing includes no specific edition. The Wolf Law Library purchased a copy of the 7th edition (1749).
Description of the Wolf Law Library's copy
Bound in full contemporary calf, gilt spine with orange and black lettering pieces, marbled endpapers and all edges marbled. Contains engraved frontispiece and woodcut initials and tail pieces. Purchased from Gibb's Bookshop ABA.
Images of the library's copy of this book are available on Flickr. View the record for this book in William & Mary's online catalog.
See also
References