The Commentaries, or Reports of Edmund Plowden ... Containing Divers Cases upon Matters of Law, Argued and Adjudged in the Several Reigns of King Edward VI, Queen Mary, King and Queen Philip and Mary, and Queen Elizabeth
From Wythepedia: The George Wythe Encyclopedia
by Edmund Plowden
Edmund Plowden (1518 - 1585) was born in Shropshire, the eldest son of a local landowner.[1] A member of the Middle Temple, Plowden began recording cases around 1550.[2] Plowden's devotion to Catholicism, while politically and socially unpopular at varying points in his life, did little to derail his successful career.[3] He held a variety of posts and positions, including an appointment to the council in the marches of Wales, membership on a commission of the peace, and member of Parliament.[4] Additionally, he was raised to the bench at Middle Temple in 1557.[5]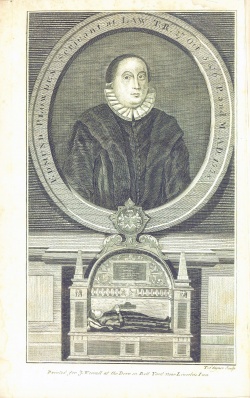 Despite his professional obligations, Plowden authored several books, including his seminal work Les Commentaries, ou, Les Reportes … de Divers Cases … en les Temps des Raignes le Roy Ed. le size, le Roigne Mary, le Roy & Roigne Philip & Mary, & le Roigne Elizabeth in 1571. He subsequently revised it on a number of occasions.[6] Plowden died on February 6, 1585 and is buried in the Middle Temple Church.[7]

The 1761 English translation of the unabridged version of Les Commentaries, ou, Les Reportes—The Commentaries, or Reports of Edmund Plowden—was believed to have been both edited and translated by a Mr. Broomly.[8] The book is a collection of case reports, and differs in two significant ways from the traditional Year Books.[9] First, Plowden was the first eminent lawyer to publish a case book in his lifetime; second, the case notes focus on points of law and the judges rulings instead of the pleading points that were so heavily prominent in the Year Books.[10]

The 1761 English translation version differs in several ways from Plowden's second edition of Les Commentaries.[11] In addition to William Fleetwood's contribution of an analytical index, the 1761 addition contains Plowden's Queries, additional tables and notes, as well as references to newer legal sources not available at the time of the 1578 edition.[12] According to legal bibliographer J. G. Marvin, "Plowden is regarded as the most accurate of all reporters" and his Reports "most deservedly [bear] as high a character as any book of Reports ever published."[13]
Evidence for Inclusion in Wythe's Library
There is no doubt that George Wythe owned The Commentaries or Reports of Edmund Plowden—a copy of the first English edition (1761) at the Library of Congress includes manuscript notes by Wythe.[14] Thomas Jefferson also listed "[Plowden's reports.] English. fol" in his inventory of Wythe's Library, noting that he kept the volume himself. He later sold it to the Library of Congress. Not surprisingly, all four of the Wythe Collection sources (Goodwin's pamphlet[15], Dean's Memo[16], Brown's Bibliography[17] and George Wythe's Library[18] on LibraryThing) list the first English edition of Plowden's Commentaries.
The Wolf Law Library purchased a copy of the 1761 edition of The Commentaries, or Reports of Edmund Plowden.
Description of the Wolf Law Library's copy
Bound in contemporary calf, rebacked in period style. Features blind rules to boards, blind fillets along joints, and blind tooling to board edges. Spine has raised bands and red label with gilt lettering and rules. Purchased from the Lawbook Exchange.
Images of the library's copy of this book are available on Flickr. View the record for this book in William & Mary's online catalog.
See also
References
External Links
Read this book at Archive.org.