Notes on the State of Virginia with an Appendix
From Wythepedia: The George Wythe Encyclopedia
by Thomas Jefferson
Notes on the State of Virginia

Title page from Notes on the State of Virginia, George Wythe Collection, Wolf Law Library, College of William & Mary.

Author
Thomas Jefferson
Editor
Translator
Published
New-York: Printed by M. L. & W. A. Davis.--For Furman & Loudon, opposite the City-Hall
Date
1801
Edition
Third American
Language
English
Volumes
volume set
Pages
392
Desc.
8vo (22 cm.)
Location
Shelf C-4
 
[[Shelf {{{shelf2}}}]]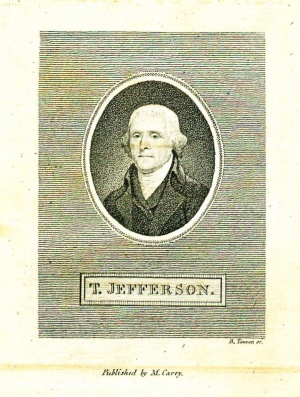 Thomas Jefferson's
Notes on the State of Virginia
originated in 1780 when
Franҫois Barbé Marbois
, the Secretary of the French Legation, distributed a list of questions to a number of Americans from several states
[1]
one of whom was Thomas Jefferson. Jefferson's response to Marbois' questions initiated one of the canonical pieces of American scholarship and Jefferson's only published work.
[2]

Jefferson sent his answers to Marbois in 1781, but he continued to expand upon his responses for several more years.[3] Aside from Jefferson's desire to put his thoughts about his home state in writing and answer Marbois' questions, his motivation was to dispel the theories of the Comte de Buffon and Guillaume Raynal,[4] French thinkers who wrote about the degeneracy of animal and intellectual life in America.[5] Jefferson's Notes is full of optimism regarding the future of the country and the potential for its industries.[6] However, the work is not devoid of criticism or misgivings, for Jefferson worried about slavery, the government of his home state, and American society in general.[7] He was particularly concerned that Americans would become overly dependent on the manufacturing sector, a trend he noticed in Europe and sought to avoid.[8]

In 1785, Jefferson published 200 copies of Notes on the State of Virginia in Paris at his own expense.[9] Of these, he sent 10 to some of his close friends in Virginia, including George Wythe, and an additional 37 copies for "such young gentlemen of the college [William & Mary] as Mr. Wythe from time to time shall think proper."[10] Some posited that Jefferson did not initially widely distribute his work because he feared repercussion for his candid thoughts.[11] For this reason, he only wanted it dread by his close friends and enlightened students at William & Mary.[12] In 1787, Jefferson allowed the publication of an expanded version for the general public.[13]

Touching on a wide range of topics, Notes on the State of Virginia reflects Jefferson's broad range of knowledge and interests[14]. Jefferson discusses topography, geology, biography, law, government, commerce, culture, scholarship, military, religion, and history.[15] For example, Jefferson contemplates why marine fossils exist at high elevations, the continent from which American natives originated, and what type of animal produced the tusks and over-sized molars found on the Ohio River.[16] In discussing theories, Jefferson acknowledged that "[i]gnorance is preferable to error; and he is less remote from truth who believes nothing, than he who believes what is wrong."[17] The manner in which Jefferson reasons is consistent with his belief that "science and the scientific method held the keys to learning and education in the broadest sense."[18] It was this worldview that enabled Jefferson to produce a book, "unpretentious in form and statistical in character."[19]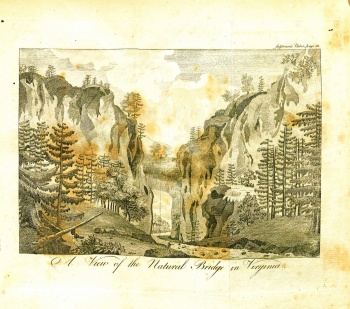 Although Jefferson was ahead of his era in some respects, he did not share the same forward-thinking with regards to slavery. Although he wanted to declare slaves free and independent, he did not want them to co-exist with whites.[20] Instead, he wanted to colonize them in a different location.[21] Jefferson viewed African slaves as racially inferior to whites, and Notes outlines the differences he perceived in physical ability, intellect, and anatomy.[22] At times, he compares them to domesticated animals.[23]

Jefferson's Notes came at a time of change in Jefferson's life, as he published them shortly after his wife died and before he resumed his public career.[24] Notes reflects "Jefferson's hopes and fears for the ultimate outcome of the American War of Independence."[25] In addition, the work "laid the foundations of Jefferson's high contemporary reputation as a universal scholar and of his present fame as a pioneer American scientist."[26]
Evidence for Inclusion in Wythe's Library
Wythe definitely owned the first edition of this title published in Paris in 1784. Thomas Jefferson sent Wythe a personal copy of Notes on the State of Virginia, as well as 9 copies for other Virginians and 37 copies "for such young gentlemen of the college as mr. Wythe from time to time shall think proper."[27] These copies accompanied the letter Jefferson wrote on September 16, 1787. The title is also listed in the Jefferson Inventory of Wythe's Library as "Notes on Virginia. 8vo. 2.copies." This was one of the titles kept by Jefferson. He may have sold one of Wythe's copies to the Library of Congress in 1815. Jefferson did sell a copy of the original edition of Notes on the State of Virginia to the Library of Congress, and that copy still exists today. However, it has no definitive markings linking it to Wythe, and may have been one of Jefferson's personal copies.[28] George Wythe's Library[29] on LibraryThing includes the copy at the Library of Congress, and also a copy at the William H. Scheide Library of Princeton University which James Breckenridge presented to Wythe. Both LibraryThing and the Brown Bibliography[30] include copies Wythe presented to others: the John D. Rockefeller, Jr. Library at Colonial Williamsburg owns a copy inscribed "The Gift of the Honbl. George Wythe To Upton Beall May 10th 1787. Virginia & Maryland," and The Virginia Historical Society owns a copy inscribed "The Hon. G. Wythe esquire to Benjamin Harrison Jr." The Dean Bibliography also included Notes on the State of Virginia based on Jefferson's 1787 letter to Wythe.[31]
As yet, the Wolf Law Library has been unable to procure a copy of the first edition of Jefferson's
Notes on the State of Virginia
, an extremely valuable and rare edition. To represent the title, the library moved a copy of the 1801 third American edition from the general rare book collection to the
George Wythe Collection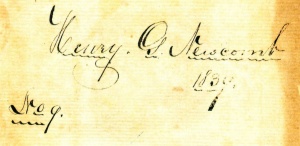 Description of the Wolf Law Library's copy
The Wolf Law Library's copy of the third American edition of Jefferson's Notes on the State of Virginia is bound in contemporary full calf; the spine features a red morocco label with gilt lettering. Signed "Henry O. Newcomb, 1834, No.9" on the front fly-leaf and "Job Goodale" on the title page. Gift of John R. King.
Images of the library's copy of this book are available on Flickr. View the record for this book in William & Mary's online catalog.
See also
References