Euripidis Tragœdiæ Medea et Phœnissæ: Græco-Latinæ
From Wythepedia: The George Wythe Encyclopedia
by Euripides
Euripidis Tragœdiæ Medea et Phœnissæ

Title page from Euripidis Tragœdiæ Medea et Phœnissæ, George Wythe Collection, Wolf Law Library, College of William & Mary.

Author
Euripides
Editor
William Piers
Translator
{{{trans}}}
Published
Cantabrigiae: Typis academicis, impensis Sam. Smith & Benj. Walford. D. Pauli Londini.
Date
1703
Edition
{{{edition}}}
Language
Parallel Greek and Latin texts
Volumes
{{{set}}} volume set
Pages
[40],392
Desc.
8vo (23 cm.)
Location
Shelf H-2
 
[[Shelf {{{shelf2}}}]]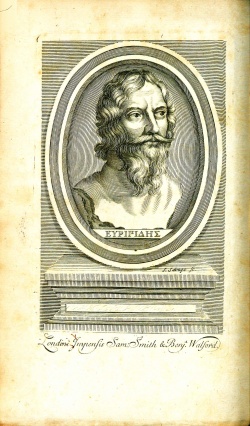 Euripides
was an Athenian tragic poet/playwright who lived from c. 485 to 406 BCE. He was the youngest of the three great Athenian tragedians, the other two being Aeschylus and Sophocles.
[1]
Little is known about Euripides' life, though we do know that he was interested in the human mind. He associated with sophists such as Anaxagoras, Socrates and Protagoras, and disregarded the temptation of using his fame to become a prominent political player in Athens.
[2]
Euripides won just four victories at the famous Dionysia theater competition, ranking him much lower than Aeschylus and Sophocles, with 13 and 18 victories respectively.
[3]
However, more than twice the number of Euripides' plays have survived to modern times than those of Aeschylus or Sophocles.
[4]
Euripides allegedly wrote 92 plays, 80 for which titles are known, and 19 of which are extant.[5] Extreme emotions and unorthodox events are prevalent in Euripides' writing, often shown through the use of the Chorus. His characters battle societal pressures, torturous situations, and inner conflicts, highlighting "his awareness that personality is inherently a fragmented thing, different aspects being displayed at different times."[6] Toward the end of his life, Euripides' plays became less tragic, and the importance of the Chorus and the prevalence of songs decreased.[7]
This work contains two of Euripides' plays: Medea and The Phoenician Women. They are presented in both Greek and Latin, with additional Greek comments. Medea is the story of a "barbarian" woman (sometimes called a witch for her medicinal powers) scorned by her husband Jason when he decides to advance his position by leaving her and their two children to marry Glauce, the princess of Corinth. Jason and Glauce go through a series of adventures, (old in the stories of Jason and the Golden Fleece or Jason and the Argonauts. The king of Corinth, Creon, fears Medea will seek revenge against his daughter and new son-in-law, and banishes Medea, but gives her one day. Creon lives to regret this because Medea uses that day to flee to Athens after she kills Jason, Glauce, and the king. In her final act, Medea kills her two children. She then escapes with the help of her grandfather, the Sun-God, who gives her a dragon-pulled chariot.
The Phoenician Women is a variant on the Oedipal Trilogy play "Seven Against Thebes" by Aeschylus. It tells the story of the war between Eteocles and Polyneices, the sons of Oedipus and Jocasta. After Eteocles and Polyneices imprison him, Oedipus curses them declaring that neither would rule without killing the other. The brothers initially plan a system to share the throne by switching positions each year. But after Eteocles rules for his year, he decides not to abdicate and give the throne to his brother. The war escalates until Eteocles and Polyneices agree to single combat and mortally wound each other. The play ends with Jocasta killing herself out of grief and Oedipus going into exile with their daughter, Antigone.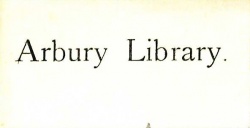 Evidence for Inclusion in Wythe's Library
Listed in the Jefferson Inventory of Wythe's Library as "Euripidis Medea et Phoenissae. Gr. Lat. Piers. cum scholii." This was one of the books kept by Thomas Jefferson. He later sold a copy of the same title to the Library of Congress in 1815, but it no longer exists to verify Wythe's prior ownership.[8] Both the Brown Bibliography[9] and George Wythe's Library[10] on LibraryThing include the Cambridge 1703 edition based on E. Millicent Sowerby's inclusion of that edition in Catalogue of the Library of Thomas Jefferson. The Wolf Law Library purchased a copy of the same edition.
Description of the Wolf Law Library's copy
Bound in contemporary panelled calf. Includes the bookplate of Arbury Library on the front pastedown. Purchased from Sevin Seydi Rare Books.
Images of the library's copy of this book are available on Flickr. View the record for this book in William & Mary's online catalog.
See also
References
External links