Modern Entries, in English Being a Select Collection of Pleadings in the Courts of King's Bench, Common Pleas and Exchequer
From Wythepedia: The George Wythe Encyclopedia
by John Mallory
Modern Entries

Title page from Modern Entries, George Wythe Collection, Wolf Law Library, College of William & Mary.

Author
John Mallory
Editor
{{{editor}}}
Translator
{{{trans}}}
Published
London, In the Savoy: Printed by E. and R. Nutt, and R. Gosling (asigns of E. Sayer) for R. Gosling
Date
1734
Edition
{{{edition}}}
Language
English
Volumes
2 volume set
Pages
{{{pages}}}
Desc.
Folio (32 cm.)
Location
Shelf L-5
 
[[Shelf {{{shelf2}}}]]

Very little is known about the John Mallory who wrote Modern Entries in English. As the title page indicates, he belonged to the Inner Temple. Scholars acknowledge him as the author of at least two other books: The Attorney's Pocket Companion, first published in 1733,[1] and Quare Impedit, originally produced in 1737.[2] He most likely is also the John Mallory who wrote Objections Humbly Offer'd Against Passing the Bill, Intitled, A Bill For the More Easy and Speedy Recovery of Small Debts, into a Law in 1730.[3]
Arranged under alphabetical headings, Modern Entries in English "aimed at three things: to give a collection of precedents of pleading, to give information as to the law of procedure and pleadings, and to give an abridgment of pleading and practice cases."[4]
Evidence for Inclusion in Wythe's Library
Listed in the Jefferson Inventory of Wythe's Library as Modern entries 2d v. and given by Thomas Jefferson to Dabney Carr. Editions of this title were published in 1734, 1741 and 1791.[5] The Brown Bibliography[6] includes the first edition (1734) while George Wythe's Library[7] on LibraryThing indicates "1734-35 or 1741." The Wolf Law Library purchased a copy of the 1734 edition.
Description of Wolf Law Library copy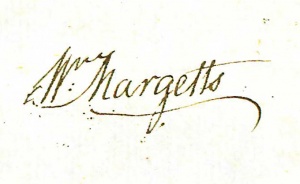 Bound in contemporary calf with blind rules to boards and blind fillets along joints. Spines feature raised bands; volume one includes label with gilt lettering and rules; label missing from volume two. Early owner signature (of William Margetts) to both front pastedowns and occasional annotations in his hand appear on title page and in volumes. Purchased from the Lawbook Exchange.
Images of the library's copy of this book are available on Flickr. View the record for this book in William & Mary's online catalog.
See also
References