Dabney Carr
From Wythepedia: The George Wythe Encyclopedia
Dabney Carr (April 27, 1773 – January 8, 1837), was the son of Dabney Carr, Sr. (1743 – 1773) and Martha Jefferson Carr, Thomas Jefferson's younger sister. He was the younger brother of Peter Carr, one of Wythe's students. Dabney Carr received forty-five of George Wythe's titles when Jefferson dispersed the collection after Wythe's death.
Carr served as commonwealth's attorney for Albemarle County from 1801 to 1811, and chancellor of Winchester and Clarksburg from 1812 to 1824.[1] He was elected to the court of appeals — Virginia's highest court — in 1824, and held this position until his death in 1837.[2]
Wythe Books Given to Carr by Thomas Jefferson
The list below was adapted from the "Library of George Wythe" in the Thomas Jefferson Libraries project on the website for Monticello.[3]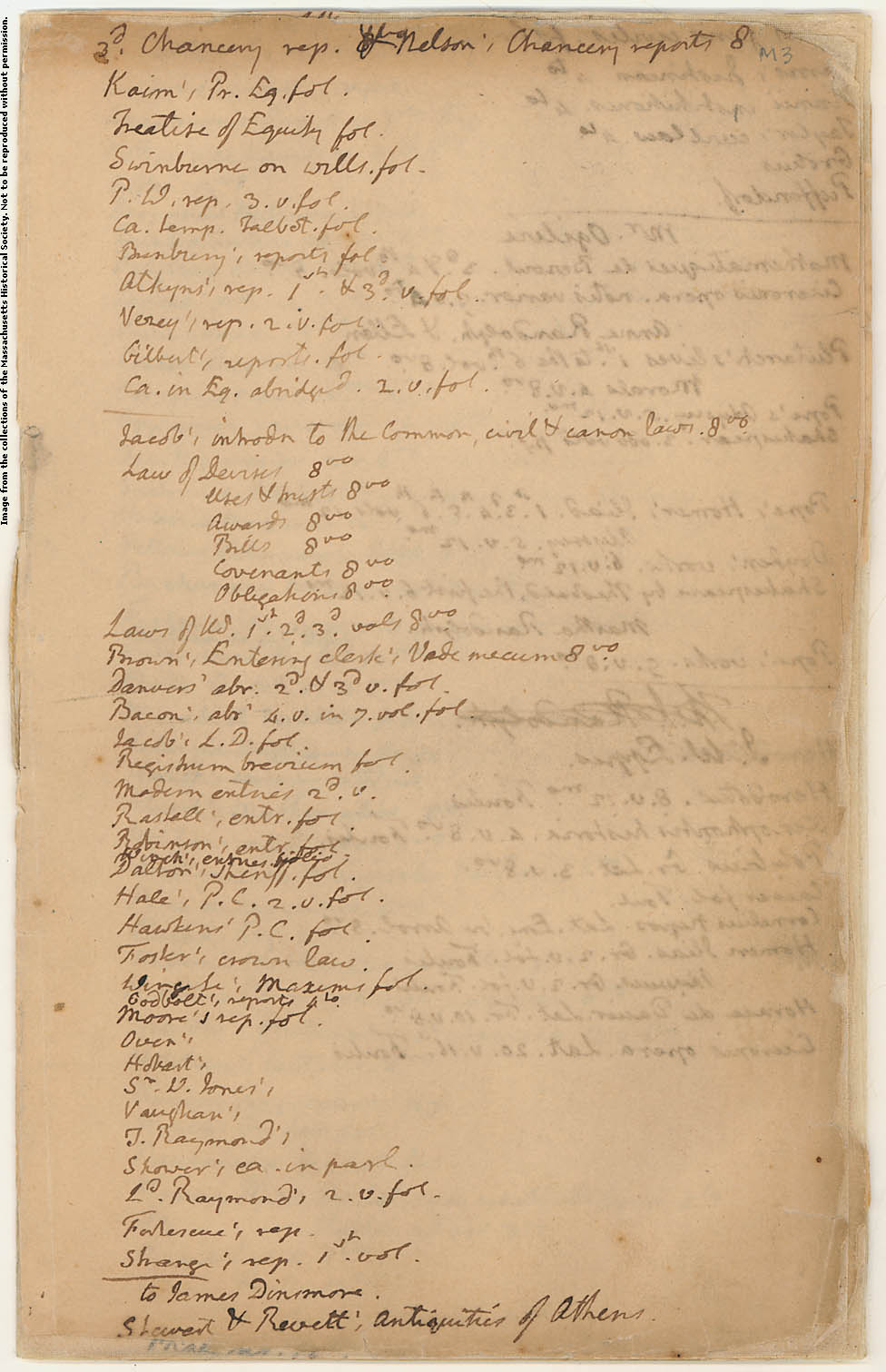 Page one of Jefferson's inventory of books received from George Wythe's estate, September, 1806. This list indicates which volumes Jefferson intended to give to his nephew, Dabney Carr. Courtesy of the Massachusetts Historical Society.
See also
References
↑ W. Hamilton Bryson, "Carr, Dabney," in American National Biography Online, 1999-. Article published February, 2000. See also Dabney Carr in the Thomas Jefferson Encyclopedia.
↑

Bryson.

↑ "Library of George Wythe," Thomas Jefferson Libraries, Monticello, accessed July 2, 2013. For the manuscript version, see "Inventory of the Books Received by Thomas Jefferson from the Estate of George Wythe, Circa September, 1806," Massachusetts Historical Society, accessed July 2, 2013.