Wythe the Teacher
From Wythepedia: The George Wythe Encyclopedia
Wythe's Students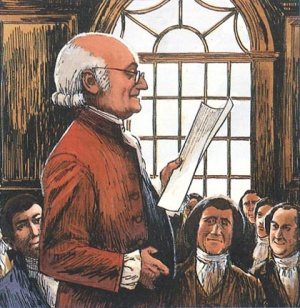 Wythe's Legal Apprentices, 1762-1779
Wythe's Students at William & Mary, 1779-1790
Wythe's Students/Apprentices, 1790-1806
For nearly a century after its inception in 1693, the study of law in Virginia remained within the parameters of England's legal education system. Lawyers-to-be were educated either through apprenticeships with practicing lawyers or through England's Inns of Court. British legal education changed in 1758 when Sir William Blackstone was elected to the Vinerian Chair of English Law at Oxford University, the first law professorship in the English-speaking world. American legal education would change not long thereafter.
The American Revolution severed most ties with England and created a dearth of available legal training for would-be lawyers. Thomas Jefferson, then governor of Virginia, saw the need for legal reorganization in the colonies (and soon to be new nation) and chose to enact his reforms at his alma mater, the College of William & Mary.[1] At Jefferson's urging, the College's Board of Visitors (of which he was a member) created a professorship of Law and Police in 1779 and named George Wythe, Jefferson's mentor, to that position.
Jefferson knew Wythe well, and had served as Wythe's his legal apprentice from 1762-1765.[2] Other notable apprentices of Wythe prior to his appointment as a law professor were the Reverend James Madison (who later became President of the College as well as the first Episcopal Bishop of the Diocese of Virginia) and St. George Tucker (who succeeded Wythe as the second Professor of Law and Police at William & Mary, and is best known as the author of the first American edition of Blackstone's Commentaries, commonly known as Tucker's Blackstone).
During its first full year of operation in 1780, at least eight students were associated with the law curriculum at the College, one of whom was John Marshall, who would later serve as Chief Justice of the Supreme Court of the United States.[3] Because there was no cohesive legal collection in the College's library at that time, Wythe used his personal collection, relying heavily on Matthew Bacon's New Abridgment of the Law[4] and Sir William Blackstone's Commentaries on the Laws of England.[5] But a young man who studied with George Wythe would learn much more.
Although as a professor at William and Mary Wythe emphasized the study of political economy and public law, his students received a formal grounding in the English common law, with Blackstone's Commentaries on the Laws of England being the basic text for his lectures. Students also were encouraged to read much more, to attend other lectures at the college, and to observe proceedings at the capital. Those able to do so received tutorial instruction from Wythe that extended from the classics to contemporary economics and politics; but to study with Wythe in this way, one needed to be a competent reader of Greek, Latin and French.[6]
Wythe can be credited for introducing a moot legislature and moot court to American law students, the latter of which has remained a staple of legal education for more than two centuries:
In addition to the lectures and readings, for his students Wythe designed two institutions which were new to North America. The first was a moot court, the concept for which likely came from the London Inns of Court, which, a couple of centuries previous, had held "'mootings." These earlier exercises had seen the member-barristers deliver arguments on both sides of set cases [footnote omitted]; however, Wythe reversed the process by having the students themselves do the arguing.

Wythe's second institutional innovation was the moot legislature. This too was held in the old Capitol, in the legislative chamber last used by the General Assembly on Christmas Eve 1779 [after which the capitol was moved from Williamsburg to Richmond], and Wythe served as Speaker while his students debated the merits of proposed legislation.

Wythe designed his moot legislature to prepare his students for the leading roles that he anticipated them soon taking in the state and national legislatures, and his ultimate goal was to create a class of ardent, well-prepared republicans.[7]
There would be many 'ardent, well-prepared republicans'. All told, Wythe taught law to perhaps 200 men, including delegates to the Continental Congress (John Brown); one or two Presidents (Jefferson and James Monroe)[8] and a Vice President of the United States (Jefferson); one or two Secretaries of State (Henry Clay and Edmund Randolph);[9] two Attorneys General of the United States (Randolph was the first Attorney General of the U.S., and Breckenridge served as Attorney General under Jefferson); U.S. Senators (Breckenridge; John Brown, and Littleton Waller Tazewell), a Speaker of the House of Representatives (Clay), two U.S. Supreme Court Justices (Marshall and Bushrod Washington); state supreme court (Spencer Roane in Virginia) and federal district court judges; a foreign minister (Jefferson); governors (Jefferson, Tazewell and William Branch Giles; members of several state legislatures (Kentucky, North Carolina and Virginia); and a president of William & Mary (The Rev. James Madison).[10]
Jefferson remained Wythe's strongest supporter throughout his mentor's tenure at the College. On July 17, 1788, then serving as Minister to France, Jefferson wrote this letter to Ralph Izard (a member of the Continental Congress and United States Senator) about William & Mary's law program:
Wythe tutored younger students even while teaching law at the College. Already in his 60's and nearing the end of his tenure at William & Mary, Wythe taught 13-year old William Munford (a future member of both the Virginia House of Delegates and Senate, and Law Reporter for the decisions of the Virginia Supreme Court of Appeals) and Littleton Waller Tazewell (who would later serve in the United States House and Senate, and as governor of Virginia). The excerpt below describes a typical day of 12-year old Tazewell's studies with Wythe:
In 1789 Wythe resigned his position at William & Mary and moved to Richmond because of his duties as Chancellor of the High Court. He didn't stop teaching, however. One of his 'pupils', a young Henry Clay, served as Wythe's secretary and amanuensis at the court. Clay later served as Speaker of the Kentucky House of Representatives, United States Senator, Speaker of the U.S. House of Representatives, and Secretary of State.
So highly regarded was Wythe at William & Mary that Jefferson remarked upon his resignation that "it is all over with the College."[13] But the school found a worthy replacement in St. George Tucker, who began teaching in September 1790.[14] As deserving as this appointment was, it is no surprise that the modest Tucker asked that others not compare him to his predecessor.[15] No one would wish to be compared with Chancellor Wythe, whose "teaching career may be assessed . . . as consequential beyond comparison to that of any successor in American university law teaching."[16]
See also
References
External links