Britton
From Wythepedia: The George Wythe Encyclopedia
by John le Breton
Britton

Title page from Britton, George Wythe Collection, Wolf Law Library, College of William & Mary.

Author
John le Breton
Editor
{{{editor}}}
Translator
{{{trans}}}
Published
London: Printed by the assignes of John Moore Esquire
Date
1640
Edition
Second edition faithfully corrected according to divers ancient manuscripts of the same booke by Edm. Wingate, Gent.
Language
Law French
Volumes
{{{set}}} volume set
Pages
[16], 287 [i.e. 291], [21] leaves
Desc.
8vo (15 cm.)
Location
Shelf F-1
 
[[Shelf {{{shelf2}}}]]
Attributed to John le Breton (sometimes John de Breton, John Bretun, Brito, or Britton; d. 1275), but largely based on the practical parts on De Legibus et Consuetudinibus Angliae (1250-1260) by Henry de Bracton with the addition of such statutes and legal changes as were necessary to bring Bracton's law up to date.[1] The origins of Britton may be traced to a project of Edward I to produce a digest of the English law in the spirit of Justinian's Institutes. Britton's book, first published in 1540, is the earliest English law book in the French language.[2]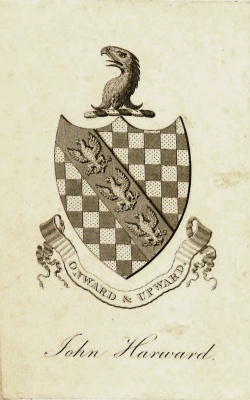 Evidence for Inclusion in Wythe's Library
Ordered by Wythe from John Norton & Sons in a letter dated May 29, 1772. Records indicate the order was fulfilled.[4] Three of the Wythe Collection sources (Dean's Memo[5], Brown's Bibliography[6] and George Wythe's Library[7] on LibraryThing) list the 1640 edition as the probable one owned by Wythe. The fourth lists the date as "164?."[8] Thomas Jefferson owned this edition and sold it to the Library of Congress in 1815.[9] The Wolf Law Library purchased a copy of the 1640 edition.
Description of the Wolf Law Library's copy

Small octavo bound in full antique calf with original backstrip laid on. Spine features raised bands and a gilt-lettered morocco label. Includes the armorial bookplate of John Harward on the front pastedown and previous owner's inscription "Robert J. F. Meyricke, from GH., March 1910" on the front fly leaf. Purchased from Roger Middleton Fine and Rare Books.
Images of the library's copy of this book are available on Flickr. View the record for this book in William & Mary's online catalog.
See also
External links
Read this book in Google Books.
References