Xenophōntes Kyrou Paideias Biblia Oktō = Xenophontis De Cyri Institutione Libri Octo
From Wythepedia: The George Wythe Encyclopedia
by Xenophon
Cyropaedia

Title page from Xenophontes Kyrou Paideias Biblia Okto, George Wythe Collection, Wolf Law Library, College of William & Mary.

Author
Xenophon
Editor
{{{editor}}}
Translator
{{{trans}}}
Published
Oxonii: e theatro Sheldoniano
Date
1727
Edition
{{{edition}}}
Language
Greek and Latin
Volumes
{{{set}}} volume set
Pages
[12], LII, 695, [1] p., [2] leaves of plates (1 folded)
Desc.
4to (24 cm)
Location
Shelf I-4
 
[[Shelf {{{shelf2}}}]]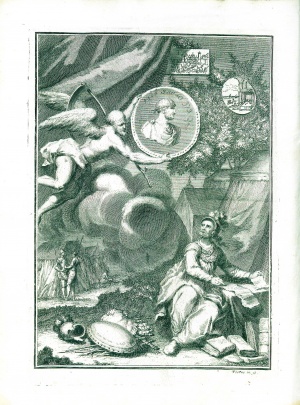 The Cyropaedia, sometimes spelled Cyropedia, is a partly fictional biography
[1]
of Cyrus the Great, written around 370 BC by the Athenian gentleman-soldier, and student of Socrates, Xenophon of Athens. The Latinized title Cyropaedia derives from Greek Kúrou paideía (Κύρου παιδεία), meaning "The Education of Cyrus". Aspects of it would become a model for medieval writers of the genre known as mirrors for princes.
Although it is "generally agreed" that Xenophon "did not intend Cyropaedia as history",[2] it remains unclear whether this work was intended to fit into any other classical genre known before. Its validity as a source of Achaemenid history has been repeatedly questioned, and numerous descriptions of events or persons have been determined to be in error. However, it is not clear that the work was intended to be used this way.
Book 8 is a sketch of Cyrus' kingship and his views of monarchy. This last book of the work also describes the rapid collapse of the empire of Cyrus after he died. It has sometimes been argued to be by another later author, or alternatively to be either a sign of Xenophon's theoretical inconsistency concerning his conception of an ideal ruler, or a sign that Xenophon did not mean to describe an ideal ruler in any simple way. [3]
Evidence for Inclusion in Wythe's Library
Listed in the Jefferson Inventory of Wythe's Library as "Xenophontis Cyropaedia. Gr. Lat. Hutchinson. 4to." This was one of the titles kept by Thomas Jefferson and later sold to the Library of Congress in 1815. Both George Wythe's Library[4] on LibraryThing and the Brown Bibliography[5] list the 1727 edition published in Oxford based on the edition Millicent Sowerby included in Catalogue of the Library of Thomas Jefferson,[6] but, Jefferson's copy no longer exists. The Wolf Law Library purchased a copy of the 1727 edition of Xenophōntes Kyrou Paideias Biblia Oktō.
Description of the Wolf Law Library's copy

Bound in contemporary calf with decorative tooling to boards; spine features gilt title, raised bands with gilt scrolls and flowers, and gilt tooling between bands. Signed "Peter Peace B.D." on front pastedown.
Images of the library's copy of this book are available on Flickr. View the record for this book in William & Mary's online catalog.
See also
References