The Tragedies of Sophocles
From Wythepedia: The George Wythe Encyclopedia
by Sophocles
The Tragedies of Sophocles

Title page from The Tragedies of Sophocles, volume two, George Wythe Collection, Wolf Law Library, College of William & Mary.

Author
Sophocles
Editor
{{{editor}}}
Translator
Thomas Francklin
Published
London: Printed for R. Francklin
Date
1758-1759
Edition
{{{edition}}}
Language
English
Volumes
2 volumes in 1 volume set
Pages
{{{pages}}}
Desc.
4to (28 cm.)
Location
Shelf I-4
 
[[Shelf {{{shelf2}}}]]
Sophocles (c. 496 – c.406 BCE), born at Colonus to a wealthy manufacturing family, became one of the great Athenian tragedians.[1] Though an anonymous biography of him exists, little information can be trusted due to lack of verification. Sophocles stayed away from politics, though he was twice elected a general with the Athenian ruler Pericles (c. 441/40 BCE), and "is said to have refused invitations to visit the courts of kings (unlike Aeschylus and Euripides)."[2] Sophocles was known as a good tempered man, who just months before his own death, had his chorus and actors perform in mourning garb in honor of the recently deceased Euripides.[3]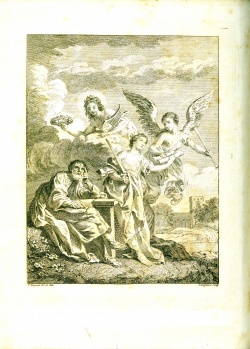 Only seven of Sophocles' tragedies are extant: Philoctetes, Ajax, Electra, Trachiniae (Women of Trachis), and the Oedipal Trilogy (also known as the Oedipal Cycle) consisting of Oedipus Tyrannus (Oedipus the King), Oedipus at Colonus, and Antigone.[4]
The Tragedies of Sophocles combines two volumes into one. It was translated from the original Ancient Greek into English by Thomas Francklin, a fellow of Trinity College and a Greek professor at the University of Cambridge. The works included are Ajax, Electra, Philoctetes, and the Oedipal Cycle: Antigone, Oedipus Tyrannus, and Oedipus Coloneus (Oedipus at Colonus).
Evidence for Inclusion in Wythe's Library
Listed in the Jefferson Inventory of Wythe's Library as "Francklin's Sophocles. 2.v. in 1. 4to." This was one of the books kept by Thomas Jefferson. He later sold a copy to the Library of Congress in 1815, but it no longer exists to verify the edition or Wythe's prior ownership.[5] The Brown Bibliography[6] and George Wythe's Library[7] on LibraryThing include the first edition (1758-1759) based on E. Millicent Sowerby's inclusion of that edition in Catalogue of the Library of Thomas Jefferson. The Wolf Law Library purchased a copy of the same edition.
Description of the Wolf Law Library's copy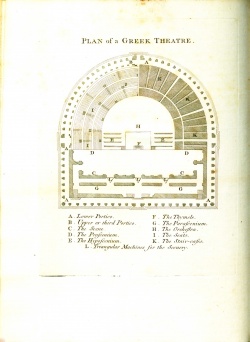 Rebound in full reddish-brown leather with bright gold title on the spine. Purchased from Pleasant Street Books.
Images of the library's copy of this book are available on Flickr. View the record for this book in William & Mary's online catalog.
See also
References
External Links