Recherches Historiques Et Politiques Sur Les États-Unis De l'Amérique Septentrionale
From Wythepedia: The George Wythe Encyclopedia
by Filippo Mazzei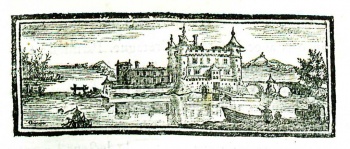 Filippo Mazzei
(1730-1816) was born in Tuscany to a tradesman. He studied medicine in Florence and took his first trip to England in 1756 as a ship's doctor. He remained in London for the next sixteen years and then moved to America to pursue a
viticulture
enterprise. Mazzei arrived in Virginia in 1773 and purchased property near
Thomas Jefferson
's Monticello. He cultivated relationships with Jefferson and other prominent Virginians, and was appointed in 1779 as Virginia's agent in Europe by Governor
Patrick Henry
. Upon his return to Virginia, Mazzei moved his estate to Richmond where he organized the Constitutional Society, a group of pamphleteers meant to promote liberty by publishing papers on public policy.
[1]
Mazzei sought a position in the American government but was denied because he was not a citizen. He permanently returned to Europe in 1785 and assisted Jefferson with his post as minister in Paris. Mazzei published various works throughout his lifetime in Virginian newspapers and Italian journals, signing them, "Philip Mazzei, Citizen of the United States of America."[2] Thomas Jefferson was especially influenced by Mazzei's works and is known to have used an excerpt from one of Mazzei's articles in his own writing.[3] Mazzei reviewed a rough draft of the Declaration of Independence[4] and is credited with the phrase, "all men are created equal."[5] Mazzei's contributions to the American cause were first officially recognized in 1980 when the U.S. Postal Service issued a stamp entitled, "Philip Mazzei, Patriot Remembered."[6]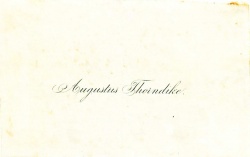 In 1788, while in Paris, Mazzei published the four-volume work Recherches Historiques et Politiques sur les États-Unis to promote the American cause. In it, Mazzei outlines the history of the American colonies, the causes of the revolution, and the economy and government of the United States. Also discussed are Indians, slavery, emigration, and the Society of the Cincinnati. Dumas Malone characterized the set as "probably the most reliable of all the works of the period on the United States.[7]
Evidence for Inclusion in Wythe's Library
Listed in the Jefferson Inventory of Wythe's Library as Etats Unis de Mazzei. 4.v. in 3. 8vo. and given by Thomas Jefferson to his son-in-law Thomas Mann Randolph. Both the Brown Bibliography[8] and George Wythe's Library[9] on LibraryThing list the first edition of this title as the one intended by Jefferson's entry. The Wolf Law Library acquired a copy of the first edition for the George Wythe Collection.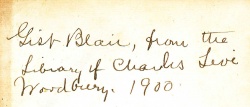 Description of the Wolf Law Library's copy
Bound in original plum boards and neatly rebacked in calf. Each volume inscribed "Gist Blair from the Library of Charles Levi Woodbury, 1900" on the front free endpaper. All volumes also include the bookplate of Augustus Thorndike on the front pastedown. Purchased from G.S. MacManus Co.
Images of the library's copy of this book are available on Flickr. View the record for this book in William & Mary's online catalog.
See also
References
External Links
Read volume three of this title in Google Books.