Q. Curtii Rufi Historiarum Alexandri Magni: cum Notis Variorum
From Wythepedia: The George Wythe Encyclopedia
by Quintus Curtius Rufus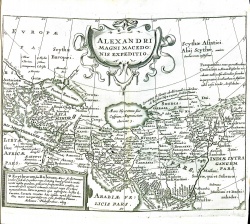 Because the first two books of the ten-book Historia Alexandri Magni are lost, little is known about its author, Quintus Curtius Rufus. No introductory biographical information of the author survives within the text.[1] Large gaps also exist in the remaining eight books, which cover the life of Alexander the Great from 333 BC until his death and its aftermath in 323 BCE.[2]
The author may have been Quintus Curtius Rufus, a politician born at the end of the first century, BC,[3] who served as a senator, suffect consul, and eventually proconsul of Africa,[4] where he died in the late 50s, AD.[5] Some scholars suggest that Historia Alexandri Magni was written by a rhetorician named Quintus Curtius Rufus, or that the author was a relative of one or both of these men.[6] Just as the identity of the author is uncertain, the time period in which he wrote is a source of debate. Historia Alexandri Magni was probably written during the time of Claudius (41-54 AD) or Vespasian (69-79),[7] though possible dates have ranged from the time of Augustus (27 BC-14 AD) to the fourth century AD.[8]
Historia Alexandri Magni is "the only known Latin historiographical monograph" on Alexander the Great.[9] Each book consists of a series of episodes that emphasize larger themes of kingship, power, and fortune.[10] Though readers in the Middle Ages admired Historia for its style and moral tone,[11] twentieth century classicists have criticized the author's style and methodology. Some consider his characterization of Alexander inconsistent, alternately portraying him "as a good man corrupted by success and fortune," and "as a man who was vicious by nature."[12] Others accuse the author of being a careless and sensational writer, and call Historia a work of historical fiction.[13] Most recently, however, his reputation as a serious historiographer has been rehabilitated.[14]
Evidence for Inclusion in Wythe's Library
Listed in the Jefferson Inventory of Wythe's Library as "Quintus Curtius varior. 8vo." Thomas Jefferson gave Wythe's copy to his grandson Thomas Jefferson Randolph. The precise edition owned by Wythe is unknown. George Wythe's Library[15] on LibraryThing indicates this without suggesting a particular edition. The Brown Bibliography[16] lists a 1673 edition published in Amsterdam based on the copy Jefferson sold to the Library of Congress in 1815.[17] Because we do not know the precise edition Wythe owned, the Wolf Law Library purchased an available version published in Amsterdam in 1658.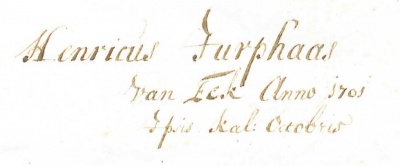 Description of the Wolf Law Library's copy
Bound in period vellum with yapped edges, faint manuscript title to head of spine. Engraved title page colored by a contemporary hand. Signed "Henricus Gurphaas, van Eyck Anno 1701, ??? kal. Octobris" on front free endpaper. Front flyleaf inscribed " undio Wilhelm Christianides, vetus Sujus possessor, Mitto tibi navem, prora puppiq carentem deficiente pecu deficit omne nia, furtum ablatum est restituendum." Rear free endpaper inscribed "Symbolum, veritas primitur, non tamen opprimitur, Mitto tibi navem, prora puppiq carentem."
Images of the library's copy of this book are available on Flickr. View the record for this book in William & Mary's online catalog.
Full text
See also
References
External Links
Read the 1673 Amsterdam edition of this book in Google Books