C. Velleii Paterculi Historiae Romanae ad M. Vinicium cos. Libri Duo
From Wythepedia: The George Wythe Encyclopedia
by Gaius Velleius Paterculus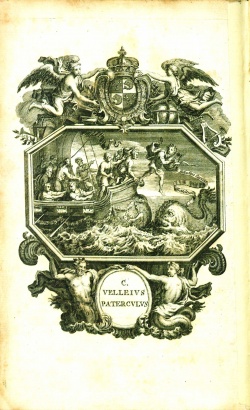 Gaius Velleius Paterculus'
was born c. 20 B.C.E. He began his career as a military tribune around the turn of the millennium, later becoming praefectus equitum (commander of auxiliary cavalry), and spent 4-12 C.E. serving under the future emperor Tiberius in Germany, Pannonia, and Dalmatia.
[1]
In 6 C.E., he returned to Rome and was elected quaestor (financial administrator). After the death of Augustus in 14 C.E., Velleius and his brother were designated candidati Caesaris (candidates of Caesar) for the praetorship (patrician magistrate).
[2]
Beyond this time, historians know nothing of Velleius, apart from the publication of
Historiae Romanae
around 30 C.E.
Historiae Romanae ad M. Vinicium cos. Libri Duo begins with Greek mythology and chronicles Roman history. Esteemed historian Lord Macaulay said of it: "I hardly know any historical work of which the scale is so small and the subject so extensive."[3] Almost all of Book I is lost. Book II begins with the razing of Carthage in 146 B.C.E., an event which Velleius saw as a turning point in Roman history. He discusses the careers of Julius Caesar, Augustus, and Tiberius at length.
Evidence for Inclusion in Wythe's Library
Listed in the Jefferson Inventory of Wythe's Library as "Velleius Paterculus. Delph. 8vo." and given by Thomas Jefferson to his grandson Thomas Jefferson Randolph. The Brown Bibliography[4] lists the 1730 Delphini edition published in London while George Wythe's Library[5] on LibraryThing simply states "Precise edition unknown." The Wolf Law Library followed Brown's recommendation and purchased the edition published in London in 1730.
Description of the Wolf Law Library's copy
Bound in contemporary panelled calf and recased retaining the original gilt-ruled and decorated backstrip.
Images of the library's copy of this book are available on Flickr. View the record for this book in William & Mary's online catalog.
References