The Abbess, A Romance
From Wythepedia: The George Wythe Encyclopedia
by William Henry Ireland
The Abbess

Title not held by The Wolf Law Library
at the College of William & Mary.

 
Author
William Henry Ireland
Editor
Translator
Published
Baltimore, MD: Printed by S. Sower, and J. W. Butler
Date
1801
Edition
Language
English
Volumes
3 volume set
Pages
Desc.
William Henry Ireland (1775 – 1835) was a poet and author, but is renowned for his forging of a cache of documents and letters purportedly in the hand of William Shakespeare, in 1794-1795. Ireland's father accepted the forgeries as genuine, put them on display for the public, and published them in a volume, Miscellaneous Papers and Legal Instruments Under the Hand and Seal of William Shakspeare Including the Tragedy of King Lear and a Small Fragment of Hamlet, from the Original Mss. in the Possession of Samuel Ireland (1796). The documents were quickly exposed as forgeries by Shakespearian scholars and experts.
Ireland's Gothic novel, The Abbess, was originally published in London in 1799, in four volumes. The American edition was published in Baltimore in three volumes, in 1801. The title page proudly credits Ireland as "The Avowed Author of the Shakspear Papers." Based on an earlier novel by Matthew Lewis, The Monk, (1796), The Abbess has a similarly lurid and scandalous plot.
Evidence for Inclusion in Wythe's Library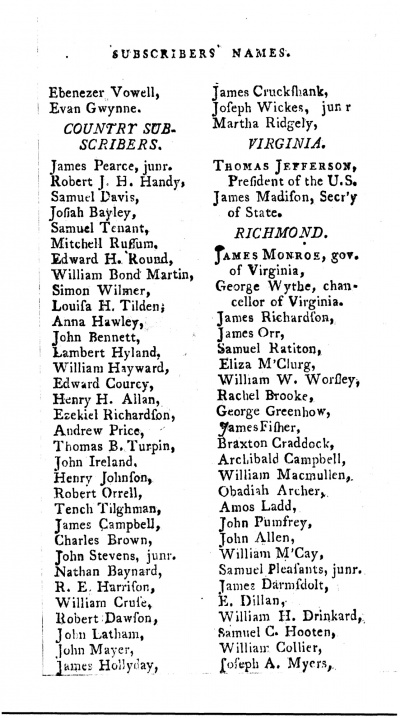 No copy of Ireland's novel is indicated in Thomas Jefferson's inventory of Wythe's library at the time of Wythe's death in 1806. Wythe's name does appear printed in the list of the publisher's subscribers, however, as does Jefferson, James Madison, and James Monroe. Also appearing under the list of subscribers from Richmond, Virginia is one "Peter Finsley," which may be a misprint for Peter Tinsley, Wythe's clerk in the Court of Chancery.
John West Butler, one of the American publishers of Ireland's novel, wrote to Jefferson in April, 1801, in the hopes of enrolling the President as a subscriber in order to promote and publish this new work by the author of "Shakespeare's Papers":
Jefferson replied positively to Butler in May, 1801, and subscribed to the book: "Tho'a stranger to the work I have not hesitated to give this mark of my personal respect for yourself as well as of my desire to encourage the art of printing in this country generally."[2] No copy of The Abbess is listed in the various catalogs of Jefferson's library.
References