A Report of the Case between Field and Harrison, Determined by the High Court of Chancery, in Which the Decree was Reversed by the Court of Appeals
From Wythepedia: The George Wythe Encyclopedia
by George Wythe
A Report of the Case between Field and Harrison

Title not held by The Wolf Law Library
at the College of William & Mary.

 
Author
George Wythe
Editor
Translator
Published
Richmond, VA: Printed and sold by Thomas Nicolson
Date
1796
Edition
Language
English
Volumes
volume set
Pages
32
Desc.
8vo (20 cm.)
A Report of the Case between Field and Harrison[1] is a published opinion by George Wythe, for the case Field v. Harrison, Wythe 273 (1794), in Virginia's High Court of Chancery.[2] The report was published in pamphlet form in 1796 by Thomas Nicolson of Richmond, Virginia, who had published Wythe's Reports in 1795, and at least seven other supplements for Wythe, in 1796 and after.[3]
The editor of the second edition of Wythe's Reports, B.B. Minor, summarized in 1852:
1. The Court of Appeals, reversing the decree of the Chancellor, who had decreed otherwise, HELD (2 Wash. 136,) that if a bond be made joint without fraud or mistake, equity will not charge the executors of the surety who have become discharged at law by his death in the life time of the principal. Aliter, if the money for which the bond was given had been lent to both obligors.

2. Remarks of the Chancellor in support of his opinion; which is supported now by the Code, p. 582 sec. 13.[4]
Wythe is frequently quoted from this case for his thoughts on judicial impartiality, where he says in his Commentary that "compassion ought not to influence a judge, in whom, acting officially, apathy is less a vice than sympathy."[5]
This pamphlet is of particular interest for a footnote spanning pages 15 and 16, where Wythe has cited one of his own cases, Pendleton v. Lomax, and writes a self-deprecating lament that only twenty copies of his published decisions have sold in a year's time:[6]
This case is to be found in a thin folio, called chancery decisions, about a score, of many copies of it printed, have been sold. the author of it, who expected it would be thought to deserve a place in most law libraries, accounts for this neglect in a way suggested to him by the following passage in Plutarch: that biographer relates, that Cato, the censor, when he was eighty years of age, undertook to learn the language of the greeks, the cultivation of whose literature, believed by his countrymen to have enlightened them, he had, upon all occasions before, discouraged, vilified, reprobated. to punish him for this blasphemy, the rage, with which, at such an advanced period of his life, he was infected, for confabulation in a dialect new to him, was called a judgment upon him. the author of the chancery decisions was guilty of an offence somewhat similar. he had then for many years occasionaly speaking irreverently of some reported westmonasterian adjudications; to be punished for which, perhaps, he was afterwards seized with a rage for reporting — reporting his own adjudications too, which may be as unentertaining and unedifying as the senile garrulity of Cato in a language not his vernacular tongue. notwithstanding that work has been slighted, the authors cacoëthes blasphemandi in that way is so inveterate that it may be pronounced insanabile. this opusculum may be slighted in the same manner; yet his cacoëthes edendi will break such, when such occasions as this present fit subjects for his lucubrations.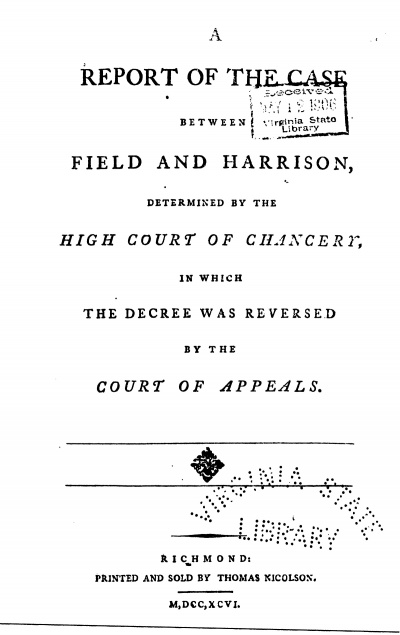 Evidence for Inclusion in Wythe's Library
Upon his death, a copy of this pamphlet which had belonged to Wythe was bequeathed with his books to Thomas Jefferson. Jefferson had the pamphlet bound into a volume with seven of Wythe's other Chancery decisions which were published as supplements.[7] Subsequently, the volume became part of the collection at the Library of Congress, titled on the spine: Wythe's Reports. Supplement. Virginia. 1796-99.[8] The pamphlet for A Report of the Case Between Field and Harrison has a handwritten notation, "no. 2," on the first page.[9]
The copy at the Library of Congress has "MS. corrections in the handwriting of Wythe."[10]
See also
References
External Links