Report of the Case between Aylett and Aylett, Determined by the High Court of Chancery, in Which the Decree Was Reversed by the Court of Appeals
From Wythepedia: The George Wythe Encyclopedia
by George Wythe
Report of the Case between Aylett and Aylett

Title not held by The Wolf Law Library
at the College of William & Mary.

 
Author
George Wythe
Editor
Translator
Published
Richmond, VA: Printed and sold by T. Nicolson
Date
1796
Edition
Language
Volumes
volume set
Pages
31
Desc.
8vo (20 cm.)
Report of the Case Between Aylett and Aylett[1] is a published opinion by George Wythe, for the case Aylett v. Aylett, Wythe 219 (1793), in Virginia's High Court of Chancery.[2] The report was published in pamphlet form in 1796, printed by Thomas Nicolson of Richmond, Virginia, who had published Wythe's Reports in 1795, and at least seven other supplements for Wythe, in 1796 and after.[3]
B.B. Minor, commenting in the second edition of Wythe's Reports in 1852, says: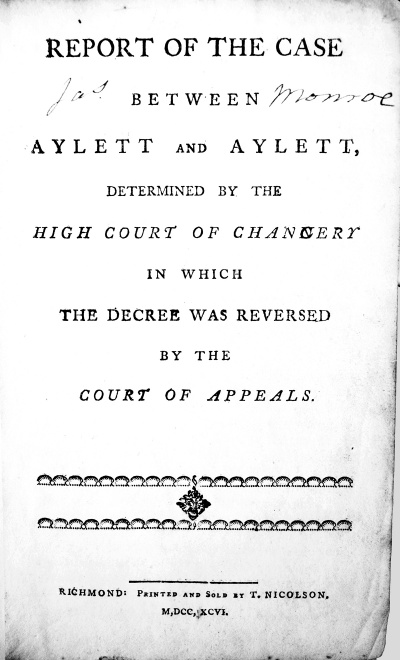 Evidence for Inclusion in Wythe's Library
Although the location of a copy of this pamphlet which may have belonged to George Wythe has not been determined, he certainly would have owned copies of his own published reports, and a bound volume in the library of Thomas Jefferson contains other supplements which did belong to Wythe.[5]
See also
References
External links