An Essay Concerning Humane Understanding
From Wythepedia: The George Wythe Encyclopedia
by John Locke
An Essay Concerning Humane Understanding

Title not held by The Wolf Law Library
at the College of William & Mary.

 
Author
John Locke
Editor
Translator
Published
London: Printed for Awnsham and John Churchil ... and Samuel Manship
Date
1700
Edition
Fourth
Language
English
Volumes
volume set
Pages
[38], 438 (i. e. 432), [12]
Desc.
Folio (33 cm.)
Born into a family of means but minor status in Wrighton, Somerset, John Locke (1632–1704) would become a philosopher and political theorist whose works would influence and shape the Enlightenment in Europe.
Locke's father was a country attorney and a steward to a powerful local family who sponsored the younger Locke's early education, beginning in 1647 in London. In 1652, Locke moved on to university at Christ Church, studying alongside the likes of John Dryden, Robert Hooke, and Christopher Wren. Locke took both a Bachelors and Masters of Arts, in 1656 and 1658.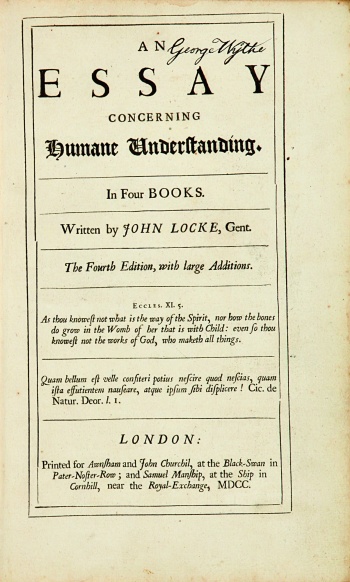 In 1666 Locke met and befriended Anthony Ashley Cooper, the first Earl of Shaftesbury. In 1675, Locke took a Bachelor's of medicine at Christ Church, allowing him to occupy a medical studentship at the college. Shaftesbury appointed Locke as his personal physician, and remained Locke's patron for more than two decades. In 1679, when Shaftesbury's bid to bar the Catholic duke of York (later, King James II) from the royal succession failed, the two went into exile in the Netherlands, returning in 1688 when William III, a Protestant, was placed on the throne.[1]
Locke's most significant works were published after his return to England. In 1689, he published his Essay Concerning Human Understanding (dated 1690), which he had begun while in exile. Locke's Essay was born of a lively conversation with a number of associates and friends, after which he wrote some "hasty and undigested thoughts" on the ultimate subject of the work. Dedicated to Thomas Herbert, the Earl of Pembroke, the Essay explores "the discerning faculties of man" with respect to the world around him. Locke considers the human mind to be a "blank slate" at birth, and advocates an exploration of the world in such a manner where sensation and perception dictate which attributes the explorer attributes to the object. In other words, Locke's work discouraged the attribution of innate, but imperceptible, qualities to objects, instead advocating attributing only perceptible qualities to items. The heart of his argument is that observers should not project human experience upon an object, instead resting solely on what was observable. Locke's essay serves as a guide regarding proper methods of thought regarding the observable world, and as a criticism of a rival theology.[2]

An Essay Concerning Humane Understanding is widely considered his seminal work for their analysis of human methods of thought and as criticisms of rival doctrines. Written while in exile from England, Locke's essay quickly took hold in a number of intellectual circles around Europe, became a cornerstone of 18th-century British empiricism, and had a lasting impact upon the time's conception of natural philosophy and of the nature of religious doctrine and political power.
Evidence for Inclusion in Wythe's Library
George Wythe's copy of this book has survived, and is currently in a private collection. The title page boasts a clear, bold version of Wythe's signature in the top right corner.
Found inserted between the pages of the book was a list of "Garden Seeds" and "Hardy Bulbs" in Wythe's handwriting, presumably intended for filling his garden with flowering plants, and vegetables and herbs. A cookbook Wythe purchased in 1764, The Art of Cookery, uses many of these products as ingredients:
See also
References
↑ J. R. Milton, "Locke, John (1632–1704)," in Oxford Dictionary of National Biography, accessed 30 April 2015.
↑ Olivia Smith, "Thinking Through Things in Texts: A Seventeenth-Century Example," Paragraph, 37, no. 1 (1998), 112-25.
External links