Thomas Jefferson
From Wythepedia: The George Wythe Encyclopedia
{{{honorific}}}
Thomas Jefferson

Third President of the United States
In office
March 4, 1801 – March 4, 1809
Preceded by
John Adams
Succeeded by
James Madison
Second Governor of Virginia
In office
June 1, 1779 – June 3, 1781
Preceded by
Patrick Henry
Succeeded by
William Fleming
Delegate to the Second Continental Congress
from Virginia
In office
June 20, 1775 – September 26, 1776
Preceded by
George Washington
Succeeded by
John Harvie
{{{4thoffice}}}
In office
{{{4thofficedates}}}
Preceded by
{{{4thofficepreceded}}}
Succeeded by
{{{4thofficesucceeded}}}
{{{5thoffice}}}
In office
{{{5thofficedates}}}
Preceded by
{{{5thofficepreceded}}}
Succeeded by
{{{5thofficesucceeded}}}
{{{6thoffice}}}
In office
{{{6thofficedates}}}
Preceded by
{{{6thofficepreceded}}}
Succeeded by
{{{6thofficesucceeded}}}
{{{7thoffice}}}
In office
{{{7thofficedates}}}
Preceded by
{{{7thofficepreceded}}}
Succeeded by
{{{7thofficesucceeded}}}
{{{8thoffice}}}
In office
{{{8thofficedates}}}
Preceded by
{{{8thofficepreceded}}}
Succeeded by
{{{8thofficesucceeded}}}
Personal details
Born
April 13, 1743
 
Shadwell, Virginia
Died
July 4, 1826 (aged 83)
 
Charlottesville, Virginia, U.S.
Resting place
{{{restingplace}}}
Residence(s)
{{{residence}}}
Education
Legal apprentice to George Wythe
Alma mater
College of William & Mary
Profession
Statesman
Planter
Lawyer
Architect
Spouse(s)
Martha Wayles
Relatives
{{{relatives}}}
Known for
Author of the United States Declaration of Independence
Father of the University of Virginia
Signature
[[File:|left|200px]]
In addition to drafting and signing the Declaration of Independence and serving two terms as the third president of the United States, Thomas Jefferson (1743 – 1826) was also a successful diplomat, lawyer, philosopher, and amateur architect.
Jefferson was born in 1743 in Shadwell, Virginia to Peter Jefferson, a surveyor, and his wife Jane Randolph Jefferson, a member of the very wealthy and prominent Randolph family.[1] The elder Jefferson died when Thomas was only 14, leaving to his son an estate of 5,000 acres and many slaves.[2] Three years later, Jefferson enrolled at William & Mary College — studying mathematics, metaphysics, and philosophy under the tutelage of Dr. William Small.[3]
Small recognized great promise in Jefferson and recommended him to George Wythe, one of the most prominent lawyers in Virginia, as an apprentice.[4] At that time in the colonies, there were no law schools; most budding lawyers learned by apprenticing themselves to a practicing attorney. Jefferson spent the next seven years learning the intricacies of the law under Wythe until Jefferson was admitted to the bar in 1767.[5] Wythe's tutelage had a profound impact on the young lawyer. In his autobiography, Jefferson recognized Wythe as one of the three most influential men in his life, along with Dr. Small and Jefferson's benefactor, Peyton Randolph.[6] Jefferson described Wythe as "my faithful and beloved mentor in youth and my most affectionate friend through life"[7] and "my ancient master, my earliest and best friend."[8]
In 1769, Jefferson added a political career to his practice of law, being elected to the Virginia House of Burgesses.[9] He gained notoriety for his support of the revolutionary cause, and in 1775 Jefferson was elected to the Second Continental Congress where he began drafting revolutionary state papers.[10] In June, 1776, Jefferson was tasked to draft a declaration of independence from Britain that would fairly represent all 13 colonies.
Jefferson's political career continued after his service in the Continental Congress. He served as Governor of Virginia (1779-1781), Minister to France (1785-89), Secretary of State (1790-1793), Vice President (1797-1801), and ultimately as President of United States (1801-1809).
Finished with politics after his second term as president, Jefferson retired to Monticello, the home he had built near Charlottesville, Virginia. As an avid student of architecture, he modeled the house after the work of Italian Renaissance master Andrea Palladio;[11] he repeated a similar design in his later works—the Virginia Capitol, Poplar Forest, and the University of Virginia.[12]
Jefferson wrote his own epitaph. In it, he identified the accomplishments of which he was most proud: the Declaration of Independence, the Virginia Statute for Religious Freedom, and the founding of the University of Virginia.[13] Jefferson died at Monticello on July 4th, 1826 — the 50th anniversary of the announcement of American independence. Coincidentally, John Adams, a partner in the Continental Congress, a bitter political rival, and ultimately a rediscovered friend, died on the same day. Adam's reported last words, knowing nothing of Jefferson's death earlier on that same morning, were "Thomas Jefferson still survives."[14]
Wythe books willed to Jefferson
When George Wythe died in 1806, he willed his library and scientific equipment to Jefferson. Of the 332 titles listed on an inventory made by Jefferson, he kept 149 titles for his own library, and gave away 183 to various family members, a joiner who worked at Monticello, and his grandson's tutor. The list of books Jefferson retained follows, and is subdivided into categories assigned by Jefferson.[15] Click on the titles to learn more about the works.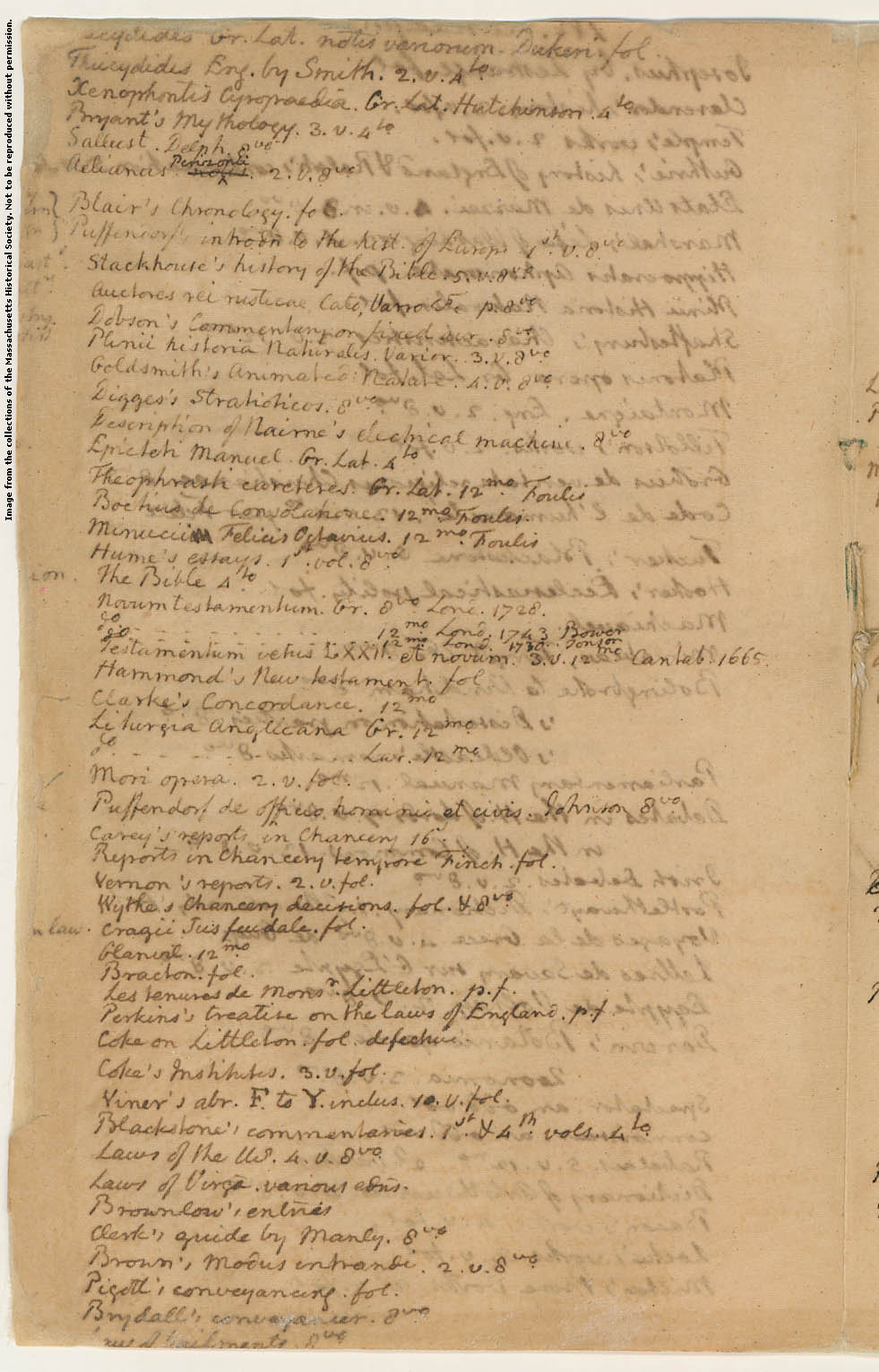 Page six of Jefferson's inventory of books received from George Wythe's estate, September, 1806. This list indicates which volumes Jefferson intended to keep for himself. Courtesy of the Massachusetts Historical Society.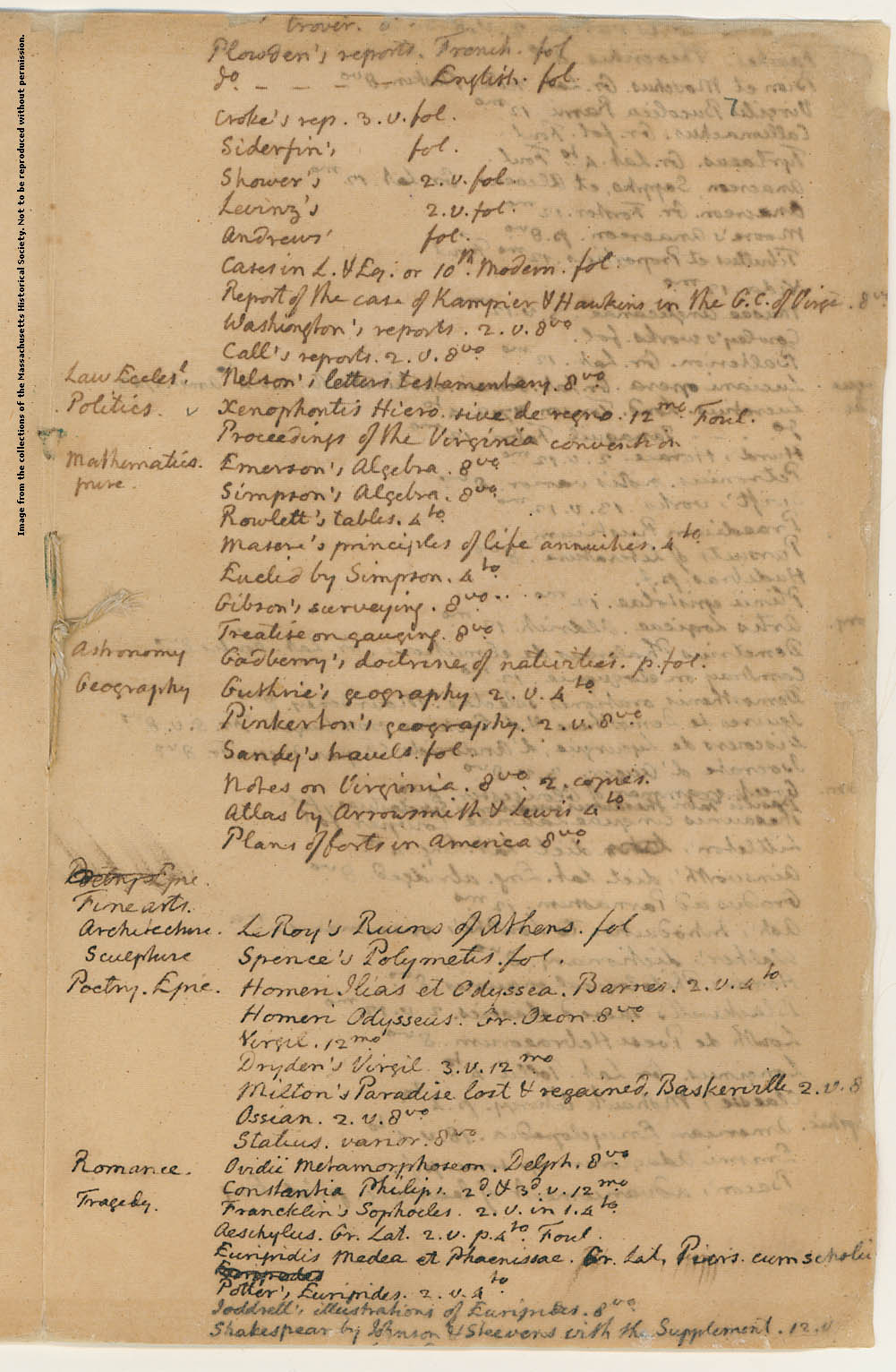 Page seven of Jefferson's inventory. Courtesy of the Massachusetts Historical Society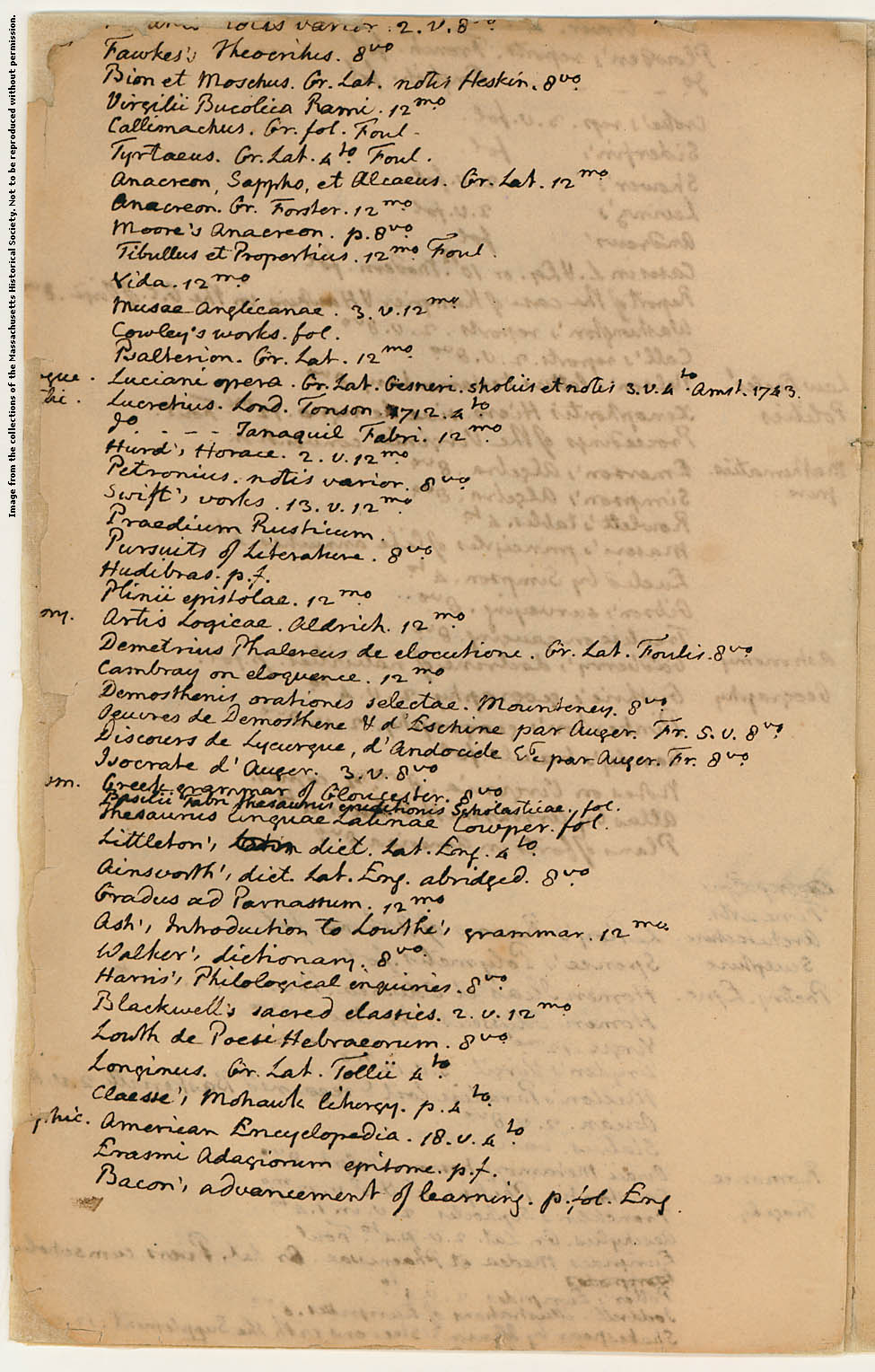 Page eight of Jefferson's inventory. Courtesy of the Massachusetts Historical Society
See also
References