Modern Reports, or, Select Cases Adjudged in the Courts of Kings Bench, Chancery, Common Pleas, and Exchequer: Since the Restoration of His Majesty King Charles II
From Wythepedia: The George Wythe Encyclopedia
Modern Reports

Title page from Modern Reports, volume one, George Wythe Collection, Wolf Law Library, College of William & Mary.

Author
Great Britain
Editor
{{{editor}}}
Translator
{{{trans}}}
Published
In the Savoy: Printed by Eliz. Nutt and R. Gosling, (Assigns of Edward Sayer Esq;) for D. Browne ... [and 9 others]
Date
1720-1733
Edition
Third
Language
English
Volumes
7 volume set
Pages
{{{pages}}}
Desc.
Folio (32 cm.)
Location
Shelf E-5
 
[[Shelf {{{shelf2}}}]]
Modern Reports is a collection of twelve volumes of English common law reports that had previously been published separately. These volumes were published intermittently in various editions between 1682 and 1738, with the first five volumes individually bearing the title Modern Reports and further volumes bearing unique titles.[1] No multivolume collection of Modern Reports appeared until 1741, when the first six volumes were published together as Modern Reports, fourth edition.[2]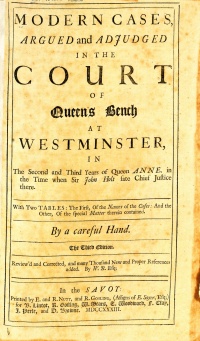 All twelve volumes did not appear as a collection until 1769, and it was not until 1793-1796 that a fully modernized and supplemented version was published in London by the respected barrister and professional editor Thomas Leach.[3] Leach's Modern Reports was considered the standard version of this collection due to its extensive editorial corrections and additions.[4]
These twelve volumes included reports of cases out of the courts of law and equity from 1669-1755 compiled by various known and anonymous reporters.[5] As with other reports, their accuracy and authority vary greatly.[6] In fact, some volumes were so ill-regarded that courts would outright reject any citation to them.[7] In the words of Lord Holt on use of the fourth volume in court, "See the inconveniences of these scrambling reports; they will make us appear to posterity for a parcel of blockheads."[8] Scholars have regarded other volumes as more accurate.[9] American scholar William Green claims, "I feel a gratitude to the unknown authors of them and consider that my success in life, which has been considerable, is owing in a great measure to them."[10] However, he goes on to explain that he does not regard all of the volumes equally.[11] "I am fond of examining the better volumes of Modern. The 3d, 4th, 5th, and 7th modern are but so so; 8th and 11th are execrable; but 1st, 2d, 6th, 9th, 10th, and 12th Modern deserve a place in the better class of the old Reporters, especially 2d, 6th, and 12th." [12] Regardless of how these reports appear today, they represent a substantial improvement over the reports of the previous period.[13]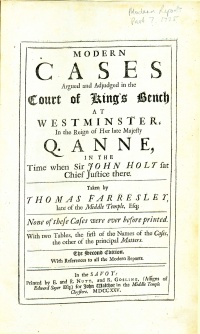 Evidence for Inclusion in Wythe's Library
Both Dean's Memo[14] and the Brown Bibliography[15] suggest Wythe owned Modern Reports based on notes in John Marshall's commonplace book.[16] Brown also notes that Wythe cited the second volume of Modern Reports in his case report for the Case Upon the Statute for Distribution: "The case between Smith and Tracey (2 Mod. rep 204) was, A dies intestate, having three brothers, B, C, and D...."[17] Dean lists the fourth edition (1757-1759) as mentioned by the editors of Marshall's papers. Brown suggests the third edition (1720-1733) for volumes one through six, the second edition of volumes seven (1725) and twelve (1741), and the first editions of volumes eight through eleven (1730-1737). The Wolf Law Library moved a copy of the third edition from the general rare books collection to the George Wythe Collection.
Description of the Wolf Law Library's copy
Volumes one through four and volume six rebound in period style. Volume five bound in full contemporary calf with blind-tooling to boards. Spine features six raised bands and a red morocco, gilt-lettered label. Volume six title differs: Modern Cases, Argued and Adjudged in the Court of Queen's Bench at Westminster in the Second and Third Years of Queen Anne, in the Time when Sir John Holt sate Chief Justice there.
Library's set includes Modern Cases Argued and Adjudged in the Court of King's Bench at Westminster: in the Reign of Her Late Majesty Q. Anne, in the Time when Sir John Holt sat Chief-Justice There (2nd ed., London, In the Savoy: Printed by E. and R. Nutt, and R. Gosling, assigns of Edward Sayer, for John Walthoe, 1725) as volume seven. Volume seven bound in contemporary blind-tooled calf, rebacked in period style with a gilt-lettered spine label, "Sir John Holt's Reports". The George Wythe Collection also includes Lucas' Reports, cited as volume ten of Modern Reports.
Images of the library's copy of this book are available on Flickr. View volumes one through six and volume seven in William & Mary's online catalog.
Full text
See also
References