The First[-Third] Part of the Reports of Sr George Croke Kt.: Late One of the Justices of the Court of Kings-Bench, and Formerly One of the Justices of the Court of Common-bench; of Such Select Cases as were Adjudged in the Said Courts ...
From Wythepedia: The George Wythe Encyclopedia
by Sir George Croke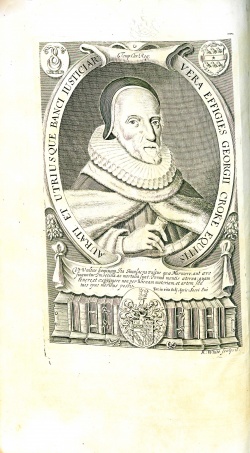 Sir George Croke (1560 – 1642) was an English judge and law reporter. He was educated at the parish school in Thame, and matriculated at
Christ Church, Oxford
, in 1575. His intent was to pursue a career in law, and was admitted in 1575 to the
Inner Temple
. Croke was called to the bar in 1584.
[1]
Croke had a very lucrative private practice, and in 1597 he became a member of parliament for Brere Alston (Devon).[2] He was made a bencher at the Temple in 1597, served as reader in 1599 and 1618, and was elected treasurer of the inn in 1609.[3] In addition, he was also knighted and became a serjeant in 1623.[4] Croke was appointed a justice of the common pleas in 1625, and he was eventually transferred to the Court of King's Bench in 1628.[5]
During the 1630's Croke distinguished himself as member of the court by speaking out against royal financial measures and even questioning their legality.[6] In reply to the argument that ship money was necessary for the immediate defense of the kingdom, he famously held that no "necessity nor danger can allow a charge, which is a breach of the laws."[7] Croke's established reputation of speaking out against the crown when he felt it was overstepping its bounds helped him immensely in late 1640 when the Long Parliament began drawing up articles of impeachment against the surviving Caroline Judges.[8]
After his death, Croke left his manuscript and printed law books to Harbottle Grimston.[9] His manuscript collections of reports contained notes on increasingly complete runs of cases stretching from the reign of Elizabeth up to 1640.[10] Grimston "translated them from Norman French into English and prepared them for publication as The Reports of Sir George Croke, Knight."[11] Croke's Reports, first published in 1657, are often praised (and occasionally criticized) for their concise nature.[12] Nevertheless, they have "a generally good reputation."[13] Wythe, however, citing Croke in his 1796 pamphlet, Report of the Case between Aylett and Aylett (1796), offered this anecdote:
Evidence for Inclusion in Wythe's Library
There is no doubt that Wythe owned this title—a copy of the 1683 edition at the Library of Congress includes George Wythe's bookplate in volumes one and two. There are also manuscript notes which may have been made by Wythe. Thomas Jefferson listed "Croke's rep. 3.v. fol." in his inventory of Wythe's Library, noting that he kept the volume himself. He later sold it to the Library of Congress. Not surprisingly, all four of the Wythe Collection sources (Goodwin's pamphlet[15], Dean's Memo[16], Brown's Bibliography[17] and George Wythe's Library[18] on LibraryThing) list the 1683 edition of Croke's Reports. The Wolf Law Library purchased a copy of this same edition.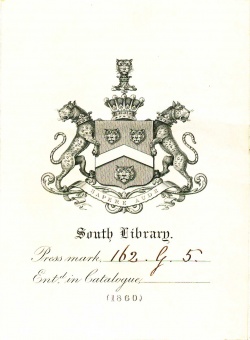 Description of the Wolf Law Library's copy
Bound in contemporary calf with banded spines and red morocco, gilt-lettered labels. Each volume includes the nineteenth-century armorial bookplate of the Earls of Macclesfield, Shirburn Castle, Oxfordshire, England, on the front pastedown.
Images of the library's copy of this book are available on Flickr. View the record for this book in William & Mary's online catalog.
Full text
See also
References