Wythe to John Norton, 8 August 1768
From Wythepedia: The George Wythe Encyclopedia
George Wythe starts off the letter asking for a post chariot from John Norton that he will pay for later. However, Wythe tells Norton that he would prefer he focus on sending the glasses, balls, the other apparatus for balloting, and the duplicates of the journals, which he had asked for in previous letters, because he would like to have them sooner rather than later.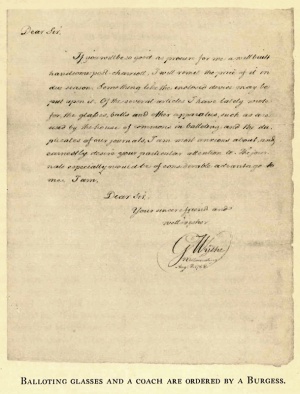 Letter text
Dear Sir,

If you will be so good as procure for me a well built handsome post-chariott, I will remit the price of it in due season. Something like the inclosed device may be put upon it. Of the several articles I have lately wrote for, the glasses, balls and other apparatus, such as are used by the house of commons in balloting and the duplicates of our journals, I am more anxious about, and earnestly desire your particular attention to. The journals especially would be of considerable advantage to me. I am,

Dear Sir,


Your sincere friend and
Well wisher
G. Wythe
Williamsburg
Aug. 8. 1768.
See also
External links