Reports of Certain Cases
From Wythepedia: The George Wythe Encyclopedia
Reports of Certain Cases, Arising in the Severall Courts of Record at Westminster in the Raignes of Q. Elizabeth, K. James, and the late King Charles With the Resolutions of the Judges of the Said Courts, Upon Debate and Solemn Arguments
by William Hughes
Godbolt's Reports

Title page from Reports of Certain Cases, George Wythe Collection, Wolf Law Library, College of William & Mary.

Author
{{{author}}}
Editor
William Hughes
Translator
{{{trans}}}
Published
London: Printed by T.N. for W. Lee, D. Pakeman, and Gabriell Bedell
Date
1652
Edition
First
Language
English
Volumes
{{{set}}} volume set
Pages
[12], 451 (i.e. 439), [19]
Desc.
4to (22 cm.)
Location
[[Shelf {{{shelf}}}]]
 
[[Shelf {{{shelf2}}}]]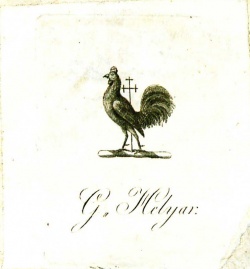 William Hughes (1587/8-1663?) was a translator and compiler of legal works.[1] He studied at St. Alban's Hall, Oxford and gained admission to Gray's Inn in 1606.[2] Although there is no record of when Hughes was called to bar, there is evidence that he was made an ancient in 1627.[3] In 1652, he published Reports of Certain Cases, a manuscript of reports previously owned by Justice Godbolt.[4] Critical treatment of the work is scarce, but later writers considered it a respectable authority.[5]
Evidence for Inclusion in Wythe's Library
Listed in the Jefferson Inventory of Wythe's Library as "Godbolt's reports 4to." and given by Thomas Jefferson to Dabney Carr. Editions were published in 1652 and 1653.[6] Both the Brown Bibliography[7] and George Wythe's Library[8] on LibraryThing include the 1652 edition. Thomas Jefferson also owned the 1652 edition[9] and the Wolf Law Library chose to move a copy of this edition from another rare book collection to the George Wythe Collection.
Description of the Wolf Law Library's copy
Bound in full calf, rebacked in period style with blind rules and black gilt label, "Hughes's Reports." Includes the bookplate of G. Helyar on the front pastedown.

View this book in William & Mary's online catalog.
References