Plutarch's Morals
From Wythepedia: The George Wythe Encyclopedia
by Plutarch
Plutarch's Morals

Title page from Plutarch's Morals, volume two, George Wythe Collection, Wolf Law Library, College of William & Mary.

Author
Plutarch
Editor
{{{editor}}}
Translator
M. Morgan, S. Ford, W. Dillingham, T. Hoy and others
Published
London: Printed by Tho. Braddyll, and are to be sold by most Booksellers in London and Westminister
Date
1694
Edition
Third, corrected and amended
Language
English
Volumes
5 volume set
Pages
{{{pages}}}
Desc.
8vo (19 cm.)
Location
Shelf I-3
 
[[Shelf {{{shelf2}}}]]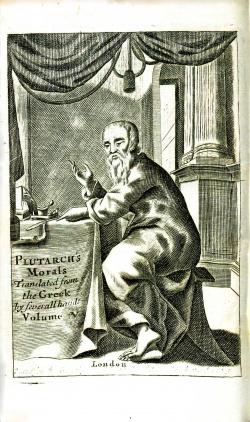 Plutarch
(ca. 45–120) was a Greek writer and public servant who frequented Rome as an ambassador. While there, he traveled among both commoners and emperors. A renowned philosopher, his most notable works are
Parallel Lives
, a series of Greek biographies, and
Moralia
(Morals and Customs), a collection of works on religion, politics, and philosophy.
[1]
Containing seventy-eight separate texts on a wide range of subjects,
Moralia
displays Plutarch's adherence to Platonic ideals and philosophy, displayed by his attacks on Stoic and Epicurean philosophy, both of which were notable detractors from Platonism in its varied forms. While these works are praised for their literary craft, they are criticized for their unfair representation of the arguments which Plutarch sets out to defeat.
[2]

Plutarch's greatest known contribution in Moralia is the sense in which he is able to portray a complex analysis of his subjects by shifting his lens between areas of humanities and social science. When describing the subjects of his work, he makes clear the personality traits that define them and explores in depth the anatomy of these traits, specifically the tendency for traits to have both positive and negative functionality.[3] Drawing again on his roots in Platonism, this descriptive force extends to his philosophical discussion, where he uses analogies, metaphors, and mythology to weave together the psychological, logical, and ethical considerations of his subject matter.[4]
Evidence for Inclusion in Wythe's Library
Listed in the Jefferson Inventory of Wythe's Library as "[Plutarch's] Morals 4.v. 8vo." and given by Thomas Jefferson to his granddaughters, Ann and Ellen Randolph. The precise edition owned by Wythe is unknown. George Wythe's Library[5] on LibraryThing indicates as much, adding "Numerous editions of the Morals were published." The Brown Bibliography[6] lists a fifth edition published in London in 1718 based on a copy owned by Jefferson. Because we do not know the precise edition Wythe owned, the Wolf Law Library purchased an available copy of the London third edition (1694).
Description of the Wolf Law Library's copy
Late 17th century octavo, uniformly bound in calf with five raised bands and original spine labels. Neat pencil marginalia and notes in all volumes. Purchased from Marc J. Bartolucci.
Images of the library's copy of this book are available on Flickr. View the record for this book in William & Mary's online catalog.
See also
References