Plutarch's Lives
From Wythepedia: The George Wythe Encyclopedia
by Plutarch
Plutarch's Lives

Title page from Plutarch's Lives, volume one, George Wythe Collection, Wolf Law Library, College of William & Mary.

Author
Plutarch
Editor
{{{editor}}}
Translator
André Dacier
Published
London: Printed for J. Tonson
Date
1727
Edition
{{{edition}}}
Language
English
Volumes
8 volume set
Pages
{{{pages}}}
Desc.
8vo (20 cm.)
Location
Shelf B-3
 
[[Shelf {{{shelf2}}}]]
Plutarch
(ca. 45–120)
[1]
was a biographer, philosopher, and ethicist born in Greece into a Greek family. The government and culture of his upbringing were dominated by Rome, and he would eventually become a Roman citizen, taking the name "Lucius Mestrius Plutarchus." He spent the majority of his life in
Chaeronea
, Athens,
Delphi
, and Rome.
[2]

A renowned philosopher, his most notable works are Parallel Lives, a series of Greek biographies, and Moralia (Morals and Customs), a collection of works on religion, politics, and philosophy.[3] Lives (often called Parallel Lives or Plutarch's Lives) is more than just historical, as it seeks to compare the parallel lives of famous Greeks and Romans and thereby synthesize a greater philosophy or wisdom about life.[4] The text was a definitive source of biography in antiquity, and was read widely in colonial America.[5]
Evidence for Inclusion in Wythe's Library
Listed in the Jefferson Inventory of Wythe's Library as Plutarch's lives 1st. to the 6th. vol. 8vo. and given by Thomas Jefferson to his granddaughters, Ann and Ellen Randolph. Until recently, the precise edition of the incomplete set owned by Wythe was unknown. George Wythe's Library[6] on LibraryThing indicated as much, adding "Probably one of several eight-volume editions published in octavo." Dean's Memo listed merely "Plutarch. Lives."[7] The Brown Bibliography[8] included a 1727 edition published in London with notes by John Dryden, based on a copy Jefferson owned which he inherited from his wife's first husband. The Wolf Law Library purchased the edition suggested by Brown in 2012.
In 2021, Austin Abbey Rare Books acquired one of the two volumes of Wythe's set that Jefferson did not receive with his inheritance. The book dealer purchased from the family of Randolph Hicks Carter (1903-1974) a copy of volume 8 of the 1727 London edition with George Wythe's armorial bookplate on the front pastedown. The signature of Carter's ancestor, John Hill Carter (1800-1862), appears directly above the bookplate. No records indicate how the Carter family became the owners of volume 8, nor if they also owned volume 7 at some time. It may be that Wythe loaned the volume(s) to a member of the family before his death. With the help of donors, the Wolf Law Library added Wythe's volume 8 to the George Wythe Collection.
Description of the Wolf Law Library's copy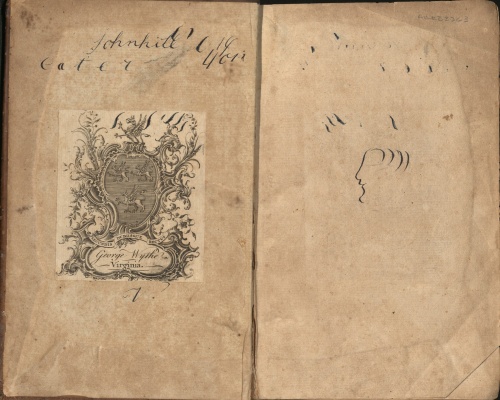 George Wythe's copy, volume 8
Bound in full period calf with gilt fillet borders to boards. Spine presents raised bands accented with gilt fillet borders and two red morocco labels. Gilt rules surround a title label with gilt letters and decorative lines. A second label is also marked with gilt rules and the name of previous owner "H. T. Dixon." The front pastedown features George Wythe's armorial bookplate with the signature of John Hill Carter above. Front free endpaper includes doodle and stray pen marks.
Complete Set
Bound in later 3/4 tan calf with marbled boards, black leather spine labels and blind stamping. Purchased from Argosy Book Store.
Images of the library's copy of this book are available on Flickr. View the record for this book in William & Mary's online catalog.
See also
References