The Entring Clerk's Vade Mecum: Being an Exact Collection of Precedents for Declarations and Pleadings in Most Actions
From Wythepedia: The George Wythe Encyclopedia
by William Brown
The Entring Clerk's Vade Mecum

Title page from The Entring Clerk's Vade Mecum, George Wythe Collection, Wolf Law Library, College of William & Mary.

Author
William Brown
Editor
{{{editor}}}
Translator
{{{trans}}}
Published
London: Printed by G Sawbridge, W Rawlins, and S Roycroft, assigns of Richard and Edward Atkins, Esqs, for W Jacob and C Smith
Date
1678
Edition
First
Language
English
Volumes
{{{set}}} volume set
Pages
[8], 575, [57] p.
Desc.
8vo (18 cm.)
Location
Shelf F-3
 
[[Shelf {{{shelf2}}}]]
William Brown (fl. 1671-1705) was an English legal clerk and writer, little known aside from producing several manuals and compendiums in the late seventeenth century. His place and date of birth and the circumstances of his childhood are unknown. Brown likely took up his clerkship shortly after the Restoration and held that position until at least as late as 1704.[1] Because this was not a high status position, Brown most likely did not receive his education at any of the Inns of Court.[2] His date of death is unknown, but there is some evidence that he died in October of 1712[3]


The Entring Clerk's Vade Mecum, a compendium for lawyers and law clerks, contains a dedication to Thomas Robinson, chief prothonotary of the Court of Common Pleas whom Brown had been serving under for sixteen years by 1678.[4] The title was one of many "books of tutorials for the aspiring clerk, books of precedents, and manuals for public officials" Brown produced.[5] George Wythe owned at least two Brown titles, The Entring Clerk's Vade Mecum and Modus Intrandi Placita Generalia.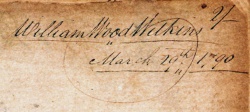 Evidence for Inclusion in Wythe's Library
Listed in the Jefferson Inventory of Wythe's Library as "Brown's Entering clerk's Vade mecum 8vo." and given by Thomas Jefferson to Dabney Carr. The precise edition owned by Wythe is unknown. Octavo editions were published in 1678 and 1695. George Wythe's Library[6] on LibraryThing states as much and does not list a specific edition. The Brown Bibliography[7] lists the first edition (1678) perhaps based on the existence of that edition in Jefferson's library.[8]
The Wolf Law Library received the first edition (1678) as part of a gift collection and placed that copy on loan to the Wythe Collection.

Description of the Wolf Law Library's copy
Bound in recent period-style calf over paper-covered boards. Includes several early owner signatures: "William Wood Wilkins, March 29th, 1790" on the front free endpaper, "Geo Duffield" on the page opposite the title, "Francis Costigen" on the title page and "Lucius Horatio Stockton, March 1796" on the title page verso and the rear free endpaper. On loan from the library's Sid Lapidus Collection.
Images of the library's copy of this book are available on Flickr. View the record for this book in William & Mary's online catalog.
See also
References