Historia Placitorum Coronæ: The History of the Pleas of the Crown
From Wythepedia: The George Wythe Encyclopedia
by Sir Matthew Hale
Sir Matthew Hale (1609 – 1676) attended Lincoln's Inn to study the law in the footsteps of his father, who had died when Hale was a very young age.[1] While studying at Lincoln's Inn, Hale became very close with the attorney general, William Noy (d. 1634).[2] Noy is believed to have helped shape Hale's love for medieval transcripts.[3] This would later lead to Hale's work on a large amount of legal literature. Hale entered the bar in 1636 after the normal seven years of schooling.[4] In 1671, Sir Matthew Hale became the chief justice of the Court of King's Bench, a well-deserved role considering the amount of writing he was doing on criminal law as well as the common law.[5]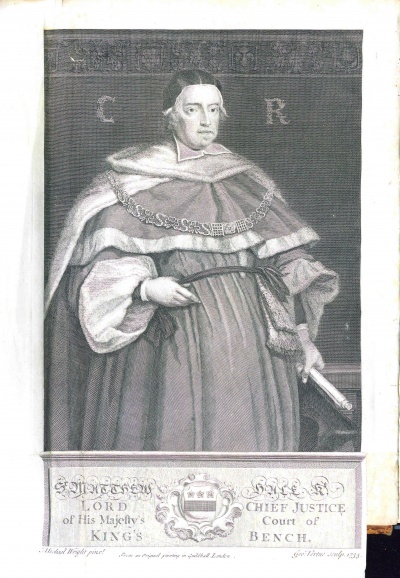 Historia Placitorum Coronæ, The History of the Pleas of the Crown, is a three-volume work on criminal law that was never completed.[6] In Hale's plan, the first volume would cover capital offenses and then further split between treasons and felonies; the second volume would consist of non-capital offenses; finally, the third volume would deal with franchises and liberties.[7] Unfortunately only the first volume was completed, but it was considered almost perfect with many of Hale's edits complete.[8] The book was ordered to be published by the House of Commons in 1680 but the first edition only appeared in 1736.[9] It became "the main authority on English criminal law for a century thereafter" and "provides the structure of Blackstone's Commentaries."[10]
Evidence for Inclusion in Wythe's Library
Wythe definitely owned a copy of the two-volume 1736 edition of Hale's The History of the Pleas of the Crown. A copy at the University of Virginia ncludes his bookplate and an inscription on the inside front board, "Given by Thos. Jefferson to D. Carr, 1806." Not surprisingly, it is also listed in the Jefferson Inventory of Wythe's Library as Hale's P.C. 2.v. fol., given by Thomas Jefferson to Dabney Carr. Three of the Wythe Collection sources (Dean's Memo[11], Brown's Bibliography[12] and George Wythe's Library[13] on LibraryThing) list first edition of The History of the Pleas of the Crown. The Wolf Law Library moved a copy of the same edition from the general rare books collection to the George Wythe Collection.
Description of the Wolf Law Library's copy
Bound in contemporary blind-tooled calf, rebacked in period style with five raised bands and red title label.
Images of the library's copy of this book are available on Flickr. View the record for this book in William & Mary's online catalog.
Full text
See also
References