Les Reports de Henry Rolle, Serjeant del' Ley, de Divers Cases en le Court del' Banke le Roy en le Temps del' Reign de Roy Jacques
From Wythepedia: The George Wythe Encyclopedia
by Henry Rolle
Les Reports de Henry Rolle

Title page from Les Reports de Henry Rolle, George Wythe Collection, Wolf Law Library, College of William & Mary.

Author
Henry Rolle
Editor
{{{editor}}}
Translator
{{{trans}}}
Published
London: Printed for A. Roper, F. Titon, J. Starkey, T. Basset
Date
1675-1676
Edition
{{{edition}}}
Language
Law French interspersed with English
Volumes
{{{set}}} volume set
Pages
2 volumes in 1
Desc.
Folio (31 cm.)
Location
Shelf E-5
 
[[Shelf {{{shelf2}}}]]
Henry Rolle (1589/90 – 1656), politician, judge, and parliamentarian, was born in Devon, the second son of Robert and Joan Rolle.[1] At the age of seventeen, he matriculated from Exeter College, Oxford, and in 1609 entered the Inner Temple.[2] Rolle's early studies in the law were "unintermitting and profound" and he gained prominence quickly.[3] He was elected to the House of Commons for Callington in 1614 and spoke mainly of legal matters in Parliament.[4] He was reelected in 1620 and married Margaret Bennett in 1627.[5]
Rolle supported Parliament in the Civil War, contributing money and influence to aid the cause.[6] In 1645, Parliament voted to appoint him a judge of the King's Bench and elevated him to chief judge in 1648.[7] He was reappointed by Cromwell in 1654, however, the following year he received his quietus and returned to his home in Shapwick.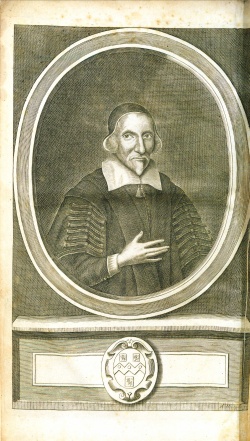 Scholars regard Rolle's posthumously published reports as authoritative.[8] "Rolle's reports...are held in great repute, from the character the author obtained in the exercise of his office as a judge during the time of the Commonwealth."[9] However, his manuscripts were never intended to be published and, as a result, contain numerous typographical errors.[10] Rolle's works inspired Viner's Abridgment.[11] Viner, in turn, inspired Sir William Blackstone.
Evidence for Inclusion in Wythe's Library
Both Dean's Memo[12] and the Brown Bibliography[13] suggest Wythe owned the 1675-1676 edition of Rolle's Reports based on notes in John Marshall's commonplace book.[14] The Wolf Law Library purchased a copy of the same edition.
Description of the Wolf Law Library's copy
Bound in contemporary calf with blind fillets to boards and rebacked in period style with raised bands, lettering piece and gilt ornaments to spine and renewed endpapers. Purchased from The Lawbook Exchange, Ltd.
Images of the library's copy of this book are available on Flickr. View the record for this book in William & Mary's online catalog.
Full text
See also
References