A Catalogue of the College of William and Mary in Virginia: From Its Foundation to the Present Time (1859)
From Wythepedia: The George Wythe Encyclopedia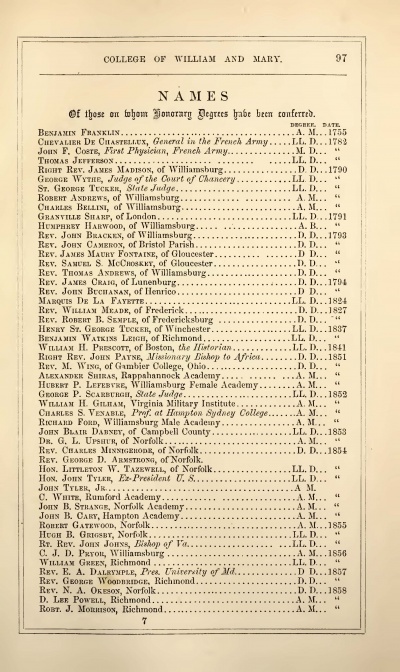 The course catalog for the College of William & Mary for 1859 contains a short history of the school, as well as historical rolls of the Board of Visitors, faculty, and students from 1720 through the 1858-1859 session.[1] It was compiled by the College's Professor of History and Political Economy, Robert J. Morrison.[2] The current courses of study and degrees offered for 1859 only take up four of the last five pages of the catalog.
George Wythe is listed several times in the catalog, first in the list of former faculty as Professor of Law (appointed 1779),[3] and also as a student "supposed to have been at the College" after 1720.[4][5] He is also listed as a member of the Board of Visitors for 1761-1763[6]
Wythe also appears among the names of those whom the College had given honorary degrees. In 1790, the College conferred on Wythe an LL. D. (Latin, Legum Doctor, "Doctor of Laws." The double "L" refers to the practice of both canon law and civil law), alongside his former students, the Bishop James Madison, who received a DD (Doctor of Divinity), and St. George Tucker (LL. D.). Tucker had been on the Board of Visitors since 1788, and another Wythe student, Chief Justice John Marshall, had been elected a Visitor that year, in 1790.[7]
Excerpt text, 1859
Page 97
COLLEGE OF WILLIAM AND MARY.
97

---

NAMES
Of those on whom Honorary Degrees have been conferred.
 
DEGREE.
DATE.
BENJAMIN FRANKLIN
A.M.
1755
CHEVALIER DE CHASTELLUX, General in the French Army     
LL. D.
1782
JOHN F. COSTE, First Physician, French Army
M. D.
"
THOMAS JEFFERSON
LL. D.
"
RIGHT REV. JAMES MADISON, of Williamsburg
D. D.
1790
GEORGE WYTHE, Judge of the Court of Chancery
LL. D.
"
ST. GEORGE TUCKER, State Judge
LL. D.
"
ROBERT ANDREWS, of Williamsburg
A. M.
"
CHARLES BELLINI, of Williamsburg
A. M.
"
GRANVILLE SHARP, of London
LL. D.
1791
HUMPHREY HARWOOD, of Williamsburg
A. B.
"
REV. JOHN BRACKEN, of Williamsburg
D. D.
1793
REV. JOHN CAMERON, of Bristol Parish
D. D.
"
REV. JAMES MAURY FONTAINE, of Gloucester
D. D.
"
REV. SAMUEL S. McCROSKEY, of Gloucester
D. D.
"
REV. THOMAS ANDREWS, of Williamsburg
D. D.
"
REV. JAMES CRAIG, of Lunenburg
D. D.
1794
REV. JOHN BUCHANAN, of Henrico
D. D.
"
MARQUIS DE LA FAYETTE
LL. D.
1824
REV. WILLIAM MEADE, of Frederick
D. D.
1827
REV. ROBERT B. SEMPLE, of Fredericksburg
D. D.
"
HENRY ST. GEORGE TUCKER, of Winchester
LL. D.
1837
BENJAMIN WATKINS LEIGH, of Richmond
LL. D.
"
WILLIAM H. PRESCOTT, of Boston, the Historian
LL. D.
1841
RIGHT REV. JOHN PAYNE, Missionary Bishop to Africa
D. D.
1851
REV. M. WING, of Gambler College, Ohio
D. D.
"
ALEXANDER SHIRAS, Rappahannock Academy
A. M.
"
HUBERT P. LEFEBVRE, Williamsburg Female Academy
A. M.
"
GEORGE P. SCARBURGII, State Judge
LL. D.
1852
WILLIAM H. GILHAM, Virginia Military Institute
A. M.
"
CHARLES S. VENABLE, Prof. at Hampton Sydney College
A. M.
"
RICHARD FORD, Williamsburg Male Academy
A. M.
"
JOHN BLAIR DABNEY, of Campbell County
LL. D.
1853
DR. G. L. UPSHUR, of Norfolk
A. M.
"
REV. CHARLES MINNIGERODE, of Norfolk
LL. D.
1854
REV. GEORGE D. ARMSTRONG, of Norfolk
 
 
HON. LITTLETON W. TAZEWELL, of Norfolk
LL. D.
"
HON. JOHN TYLER, Ex-President U. S.
LL. D.
"
JOHN TYLER, JR.
A. M.
 
C. WHITE, Rumford Academy
A. M.
"
JOHN B. STRANGE, Norfolk Academy
A. M.
"
JOHN B. CARY, Norfolk Academy
A. M.
"
ROBERT GATEWOOD, Norfolk
A. M.
1855
HUGH B. GRIGSBY, Norfolk
LL. D.
"
RT. REV. JOHN JOHNS, Bishop of Va.
LL. D.
"
C. J. D. PRYOR, Williamsburg
A. M.
1856
WILLIAM GREEN, Richmond
LL. D.
"
REV. E. A. DALRYMPLE, Pres. University of Md.
D. D.
1857
REV. GEORGE WOODBRIDGE, Richmond
D. D.
"
REV. N. A. OKESON, Norfolk
D. D.
1858
D. LEE POWELL, Richmond
A. M.
"
ROBT. J. MORRISON, Richmond
A. M.
"
7
 
 
See also
References
External links