Of the Nature of Things
From Wythepedia: The George Wythe Encyclopedia
by Titus Lucretius Carus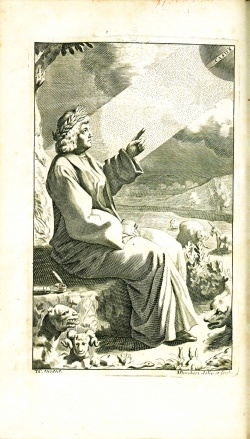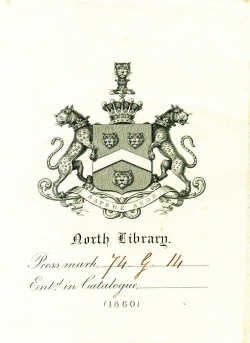 Titus Lucretius Carus (c.99 – c.55 BCE), known simply as Lucretius, was a Roman poet who believed in Epicurean philosophy:[1] a "strictly mechanistic account of all phenoma" that atoms make up everything in the world, from physical objects to the mind to the soul.[2] Little is known about Lucretius, although various contemporary authors have written about his life.[3]
De Rerum Natura, or On the Nature of Things, the only known work of Lucretius, is a poem in six books. "The purpose of the poem is to free men from a sense of guilt and the fear of death by demonstrating that fear of the intervention of gods in this world and of punishment of the soul after death are groundless: the world and everything in it are material and governed by the mechanical laws of nature, and the soul is mortal and perishes with the body."[4] Lucretius wrote with a clear and organizational purpose; even "[the] division of the text corresponds to the Epicurean stress on the intelligibility of phenomena: everything has a systematic explanation, the world can be analysed and understood."[5] Each book has a prologue and a conclusion. The prologue in Book 1 "opens with a famous invocation of Venus, goddess of creative life, to grant to the poet inspiration and to Rome peace."[6]
Evidence for Inclusion in Wythe's Library
Wythe definitely owned this title—a copy of the 1714 edition at the John D. Rockefeller, Jr. Library in Colonial Williamsburg contains the inscription "Of Doctor James Blair's executor bought by G. Wythe" on the title page of volume one (the doctor's name is stamped). Both volumes also have "T. J. Randolph" inscribed on the front board. Thomas Jefferson listed it in his inventory of Wythe's Library as "Lucretius by Creech. 2.v. 8vo." and gave it to his grandson, Thomas Jefferson Randolph. Three of the Wythe Collection sources (Dean's Memo[7], Brown's Bibliography[8] and George Wythe's Library[9] on LibraryThing) include the 1714 edition of Of the Nature of Things. The Wolf Law Library purchased a copy of the same edition.
Description of the Wolf Law Library's copy
Bound in contemporary sprinkled calf with gilt spines and label (on volume one only). Both volumes include the bookplate of the Earls of Macclesfield, North Library on the front pastedown and a matching embossed stamp on the frontispieces, title pages, and first pages of each preface.
Images of the library's copy of this book are available on Flickr. View the record for this book in William & Mary's online catalog.
See also
References
External links