The New Virginia Justice, Comprising the Office and Authority of a Justice of The Peace, in the Commonwealth of Virginia
From Wythepedia: The George Wythe Encyclopedia
by William Waller Hening
William Waller Hening (1767 – 1828), a Virginia lawyer, legal editor, and representative to the Virginia House of Delegates, was born in Culpeper County, Virginia in 1767. After reading law, he was admitted to the bar in Fredericksburg in 1789 and the bar of the Stafford County Court in 1790.[1] In 1793, he moved to Charlottesville, and in 1804 was elected to the Virginia House of Delegates representing Albemarle County. Three years later, membership on the Executive Council prompted his relocation to Richmond.[2] In 1810, Hening relinquished his seat on the council to accept the position of clerk of the Superior Court of Chancery for the Richmond district. He served in this capacity until his death.[3]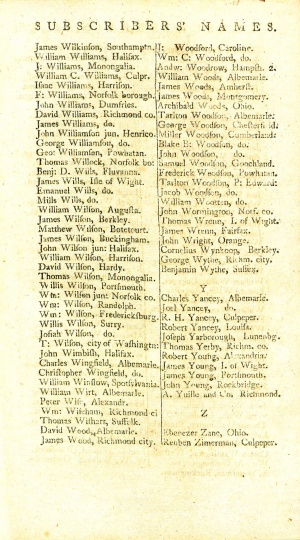 Beginning in 1795, Hening steadily contributed to legal literature as an author or editor. He collaborated with William Munford to produce a number of titles, including the four volume set of The Reports of Cases Argued and Determined in the Supreme Court of Appeals of Virginia (1810) and Revised Code of the Laws of Virginia (1819). During this time he also wrote The American Pleader and Lawyer's Guide (1811) and began work on The Statutes at Large, Being a collection of All the Laws of Virginia, From the First Session of the Legislature, in the Year 1619. Printed between 1809 and 1823, the set eventually reached 13 volumes.[4]
The New Virginia Justice was a handbook for magistrates that incorporated Virginia laws since the Revolution. While lamenting that he was tasked to convey all the necessary information regarding the topic "in a single octavo volume of six hundres pages," Hening wrote, "it will be found that nothing material relating to the office of a Justice of the Peace, out of court, has been omitted.—That many important points of legal knowledge respecting the practical part of his duty, in court, are conveyed ..."[5] First published in 1795, The New Virginia Justice was widely disseminated throughout Virginia, and its popularity demanded several subsequent editions.[6]
Evidence for Inclusion in Wythe's Library
"George Wythe, Richm. city." is listed as a subscriber to the first (1795) edition.[7] The Wolf Law Library moved a copy of this edition from the general rare books collection to the George Wythe Collection.
Description of the Wolf Law Library's copy
Bound in contemporary calf. Spine features gilt rules and red morocco label with gilt lettering as well as a leather owner's label "N. Turnbull." Front pastedown has former owner's signature,"Sophia Potts". Signature of G. Deneale is on front free endpaper, front flyleaf, and title page.
Images of the library's copy of this book are available on Flickr. View the record for this book in William & Mary's online catalog.
Full text
See also
References