Modern Geography
From Wythepedia: The George Wythe Encyclopedia
Modern Geography: A Description of the Empires, Kingdoms, States, and Colonies with the Oceans, Seas, and Isles; in All Parts of the World: Including the Most Recent Discoveries, and Political Alterations, Digested on a New Plan
Modern Geography

Title page from Modern Geography, volume one, George Wythe Collection, Wolf Law Library, College of William & Mary.

Author
John Pinkerton
Editor
{{{editor}}}
Translator
{{{trans}}}
Published
Philadelphia: Published by John Conrad & Co. ...
Date
1804
Edition
{{{edition}}}
Language
English
Volumes
2 volume set
Pages
{{{pages}}}
Desc.
8vo (23 cm.)
Location
[[Shelf {{{shelf}}}]]
 
[[Shelf {{{shelf2}}}]]
Evidence for Inclusion in Wythe's Library
Listed in the Jefferson Inventory of Wythe's Library as Pinkerton's geography. 2.v. 8vo. This was one of the titles kept by Thomas Jefferson. In 1815, Jefferson sold a copy of John Pinkerton's Modern Geography to the Library of Congress. Both the Brown Bibliography[1] and George Wythe's Library[2] on LibraryThing include the 1804 edition of Pinkerton's work based on Millicent Sowerby's entry in Catalogue of the Library of Thomas Jefferson.[3] While the Jefferson volumes no longer exist to conclusively verify the edition or Wythe's prior ownership, the Wolf Law Library's George Wythe Collection includes the edition recommended by Sowerby.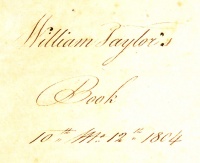 Description of the Wolf Law Library's copy
Mixed, incomplete set (lacks atlas volume). Volume one bound in contemporary calf. Spine features gilt bands and red morocco, gilt-lettered label and volume number. Includes inscription, "William Taylor's Book 10th Mo 12th 1804" on front free endpaper. Volume two bound in contemporary calf with gilt-ruled spine and red morocco, gilt-lettered label. Gilt volume number. Includes signature "W. Lewis" on front pastedown and title page. Inscription on front free endpaper partially missing. Remnant is "January 26th 1826."
View this book in William & Mary's online catalog.
References
↑ Bennie Brown, "The Library of George Wythe of Williamsburg and Richmond," (unpublished manuscript, May, 2012) Microsoft Word file. Earlier edition available at: https://digitalarchive.wm.edu/handle/10288/13433.
↑ LibraryThing, s.v. "Member: George Wythe," accessed on November 11, 2013.
↑ E. Millicent Sowerby, Catalogue of the Library of Thomas Jefferson, 2nd ed. (Charlottesville: University Press of Virginia, 1983), 4:89-90 [no.3826].