Young v. Skipwith
From Wythepedia: The George Wythe Encyclopedia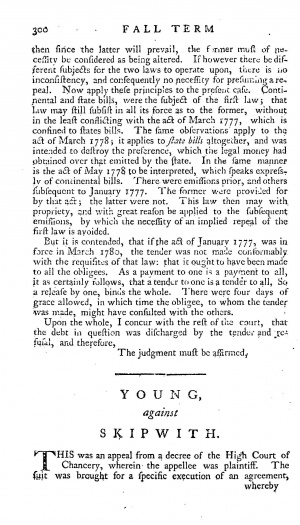 Young v. Skipwith, 2 Va. (2 Wash.) 300 (1796),[1] is a brief decision involving a land dispute.
Background
Young agreed to buy a plot of land for Skipwith and himself. After Young failed to uphold his side of the agreement, Skipwith sued Young in the High Court of Chancery. Skipwith's complaint requested the Court both partition and convey the land based on boundaries Skipwith and Young previously agreed on. Chancellor Wythe decreed in Skipwith's favor. Wythe ordered a surveyor to run a line of division between the property and report the quantity of land given to each party.
The Court's Decision
Prior to coming before the Court of Appeals, the parties had not yet received a final decree. Because of this, the Court of Appeals dismissed the case for being brought prematurely and remanded the case to the Court of Chancery.
See also
References
↑ Bushrod Washington, Reports of Cases Argued and Determined in the Court of Appeals (Richmond: T. Nicolson, 1799), 2:300.