Smith v. Wallace
From Wythepedia: The George Wythe Encyclopedia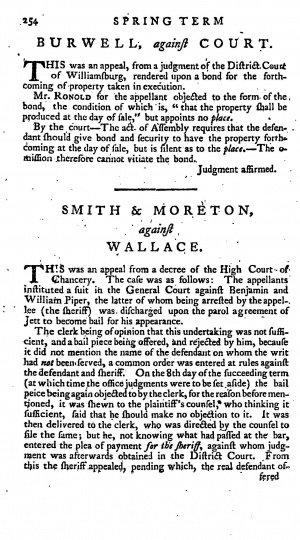 In Smith v. Wallace, 1 Va.(1 Wash.) 254 (1799),[1] the Court determined a sheriff's liability in an improperly filed bail agreement.
Background
Smith and Moreton sued Benjamin and William Piper in General Court. To ensure his appearance, Wallace, the local sheriff, arrested William Piper. After agreeing that Jett would pay William's bail, William was discharged. However, the General Court Clerk did not think the parole agreement was sufficient for William's release. The Clerk noted the agreement did not include the defendant's name nor was it properly served. On these grounds, the Clerk refused to file the agreement. After the Clerk rejected the agreement for a second time,the agreement was shown to Smith and Moreton's attorney. The attorney thought the agreement was fine and directed the clerk to file it. However, the clerk incorrectly entered the plea of payment against the sheriff rather than the defendant, and the District Court promptly granted the judgment against him. Wallace appealed the judgment and even had the real defendant, William, offer himself before the court. However, the District Court would not grant him relief. Wallace, then, brought his case before the High Court of Chancery.
The Court's Decision
Chancellor Wythe perpetuated the injunction and gave Wallace relief from the debt. The Court of Appeals affirmed.
See also
References
↑ Bushrod Washington, Reports of Cases Argued and Determined in the Court of Appeals of Virginia (Richmond: T. Nicolson, 1798), 1:254.