Minnis v. Aylett
From Wythepedia: The George Wythe Encyclopedia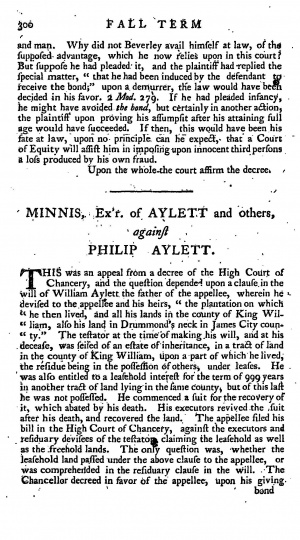 Minnis v. Aylett, 1 Va. (1 Wash.) 300 (1804),[1] is a case where the Court determined whether a tract of leased land was included in the testator's will, and thus inherited by his son.
Background
Philip Aylett's father, William Aylett, left a will leaving Philip his plantation, land in King William County, and Drummond's Neck located in James City County. William Aylett was also entitled to additional land in King William County, which had been leased to a third party. While alive, William filed a suit to recover these lands and at his death, Minnis, William's executor, revived the suit and recovered the land. The question before the Court was whether the leased land was included in William's will and therefore Philip's or if the lands passed by the will and remained an asset of the estate.
The Court's Decision
The Chancellor found in favor of Philip Aylett. The Court of Appeals reversed.
See also
References
↑ Bushrod Washington, Reports of Cases Argued and Determined in the Court of Appeals of Virginia (Richmond: T. Nicolson, 1798), 1:300.