Beckwith v. Butler
From Wythepedia: The George Wythe Encyclopedia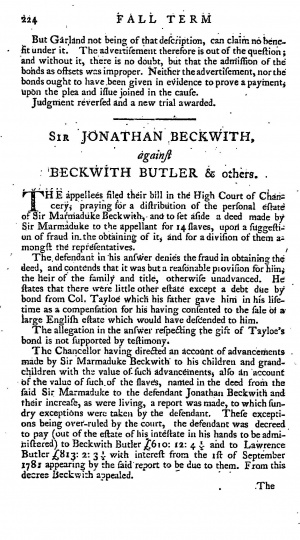 Beckwith v. Butler, 1 Va. (1 Wash.) 224 (1793),[1] was a case regarding the distribution of a personal estate after the fraudulent acquisition of the estate by one of its heirs.
Background
Lawrence Butler, along with other children and grandchildren of Sir Marmaduke Beckwith, sued Jonathan Beckwith in the High Court of Chancery. The complainant requested the Chancery Court redistribute Sir Marmaduke's personal estate. The respondents alleged that Sir Marmaduke made a fraudulent deed to Jonathan Beckwith for 14 slaves and prayed that the slaves be divided among them.
The Court's Decision
Chancellor Wythe decreed that Jonathan Beckwith was to pay the respondents an assigned amount out of the estate. The Court of Appeals affirmed the case and remitted to the High Court of Chancery for a hearing because the decree contained a mistake by the clerk.
See also
References
↑ Bushrod Washington, Reports of Cases Argued and Determined in the Court of Appeals of Virginia, (Richmond: T. Nicolson, 1798), 1:224.