Auditor v. Chevallie
From Wythepedia: The George Wythe Encyclopedia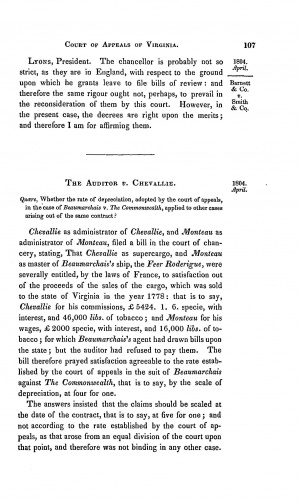 In Auditor v. Chevallie, 9 Va. (5 Call) 107 (1804),[1] the court decided whether the same rate of depreciation, adopted by the court of appeals in the case of "Commonwealth v. Beaumarchais", applied to other cases arising out the same contract.
Background
This is a suit arising out of the same contract in Commonwealth v. Beaumarchais. In this case, the administrators of Chevallie, an agent for Beaumarchais, and the administrators of Monteau, the master of Beaumarchais's ship, sued the Commonwealth for their entitled portion of cargo sales. In 1778, Beaumarchais's ship arrived in Yorktown carrying military equipment which was bought by the State of Virginia. After the sale was complete, Chevallie went on behalf of the crew to receive payment, but the auditor refused to pay. According to their petition, Chevallie was owed £5424 and 46,000 lbs. of tobacco for his commission. Monteau was also owed his wages of £2000 with interest and 16,000 lbs. of tobacco. The petition requested the court to grant relief, and to do so, at the same depreciation rate established in Commonwealth v. Beaumarchais.
The Court's Decision
Chancellor Wythe decreed in favor of Chevallie and Monteau. Wythe also adopted the same depreciation rate of one to four ordered by the Court of Appeals in the Beaumarchais case. The Court of Appeals affirmed the decree.
See also
References
↑ Daniel Call, Reports of Cases Argued and Decided in the Court of Appeals of Virginia (Richmond: R. I. Smith, 1833), 5:107