Commonwealth v. Beaumarchais
From Wythepedia: The George Wythe Encyclopedia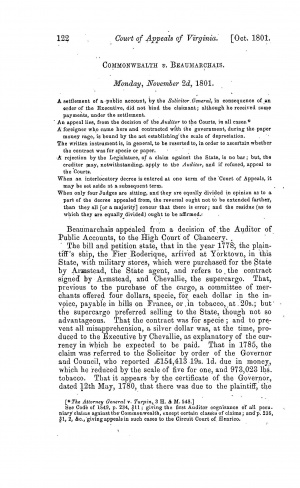 Commonwealth v. Beaumarchais, 7 Va. (3 Call) 122 (1801),[1] involved a foreign company that contracted with the Virginia state government. The court determined whether a rejection by the state legislature and auditor to pay equipment fees barred the creditor from recovery.
Background
In 1778, Beaumarchais's ship arrived in Yorktown carrying military equipment which were bought by the State of Virginia. In the contract, Beaumarchais requested that payment for the equipment be paid in coined money and not notes. In 1785, a report was given to the Governor that the State owed Beaumarchais £154,413 19 shillings and 1 dollar for the purchase. In May 1780, the Governor gave notes and several other forms of payment such warrants to the plaintiff to pay off the debt. However, the warrants depreciated in value. After receiving a ruling by the Auditor's office that it could not recover the full amount of money due and must accept the depreciated value of the payment, Beaumarchais appealed its case to the High Court of Chancery.
The Court's Decision
Chancellor Wythe found in favor of the plaintiff and the State appealed. The Appeals Court affirmed the judgment, but reversed the residual amount due.
See also
References
↑ Daniel Call, Reports of Cases Argued and Adjudged in the Court of Appeals of Virginia, 3rd ed., Lucian Minor (Richmond: A. Morris, 1854), 3:122.