The Works of Alexander Pope
From Wythepedia: The George Wythe Encyclopedia
The Works Of Alexander Pope Esq. In Nine Volumes Complete, With His Last Corrections, Additions, and Improvements; as They Were Delivered to the Editor a Little Before His Death, Together With The Commentaries and Notes of Mr. Warburton
by Alexander Pope
The Works of Alexander Pope

Title page from The Works of Alexander Pope, volume one, George Wythe Collection, Wolf Law Library, College of William & Mary.

Author
Alexander Pope
Editor
William Warburton
Translator
{{{trans}}}
Published
London: Printed for J. and P. Knapton {etc.}
Date
1751
Edition
{{{edition}}}
Language
English
Volumes
9 volume set
Pages
{{{pages}}}
Desc.
{{{desc}}}
Location
[[Shelf {{{shelf}}}]]
 
[[Shelf {{{shelf2}}}]]
Alexander Pope (1688-1744) is a poet famous for his moral satires and mock epics, as well as his use of the heroic couplet.[1] Pope's professional opportunities were limited because of his Catholic faith and poor health throughout his life; this drove him to read extensively and to write poetry.[2]


His first major poem was the Pastorals (1705), which began his foray into pastoral poetry. In 1712 he started to write mock epic poetry with the Rape of the Lock, which he followed with a famous verse translation of Homer's Iliad that took him six years to complete.


Pope explored the intellectual and emotional reach of poetry within formal composition rules, satirizing the poet's dedication to these rules in his famous poem An Essay on Criticism (1711).


During the 1720s, Pope published multiple versions of a mock heroic the Dunciads, cementing his reputation as a satirist.[3] However, his poem An Essay on Man (1734-35) marked a move away from satire back to the poetic essay.[4] In this poem he explored the relationship between religion and human life.[5] He continued to write poetic epistles, as well as the Books of Horace, until his death in 1744.[6]


Pope first published his Works in 1717, while he was working on his translation of Homer. The Works of Alexander Pope Esq. In Nine Volumes Complete was published in 1751, and became the primary edition of Pope's works.[7]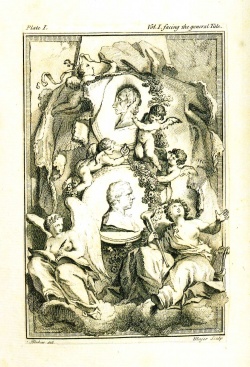 Foxon has shown that this octavo edition was what Pope had designed for some time before his death, despite the fact that the "death-bed" editions of the 1740s had been produced in quarto: 'Warburton produced the edition for a general readership that would always have been the result of the grand edition in quarto.' [8] The edition remains the best approach we have to Pope's final idea of how his works should be produced; and it is in this final format and this recension that Pope's text was fixed for the rest of the century.
Evidence for Inclusion in Wythe's Library
Listed in the Jefferson Inventory of Wythe's Library as Pope's works. 9.v. 8vo. and given by Thomas Jefferson to his daughter Martha. The precise edition of the set owned by Wythe is unknown. George Wythe's Library[9] on LibraryThing indicates as much, adding "Numerous nine-volume editions in octavo were published, the first at London in 1751." The Brown Bibliography[10] lists the first edition published in London. The Wolf Law Library purchased a copy of this edition.
Description of the Wolf Law Library's copy
Bound in 19th century hard-grained morocco, spines and edges gilt, silk markers. Ownership inscription in each volume of J. Barnard; booklabels of Charles and Mary Lacaita. Contains 23 engraved plates, including the frontispiece to volume I and two extra plates inserted in vols. I-II. Purchased from Christopher Edwards ABA ILAB.
View this book in William & Mary's online catalog.
External Links
Volume 1:Google Books
Volume 2:Google Books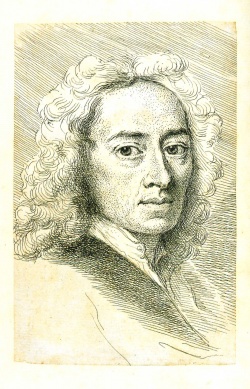 References