"Virginia, June General Court, 1806"
From Wythepedia: The George Wythe Encyclopedia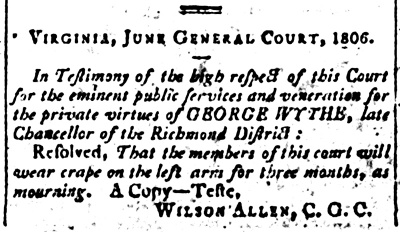 A small item appears in the Richmond Enquirer for June 24, 1806,[1] stating that the General Court of Virginia has elected to wear black arm bands for three months, in memory of George Wythe, who died on June 8th.
Article text, 24 June 1806
Page 3
VIRGINIA, JUNE GENERAL COURT, 1806.

---

In Testimony of the high respect of this Court for the eminent public services and veneration for the private virtues of GEORGE WYTHE, late Chancellor of the Richmond District:

Resolved, That the members of this court will wear crape on the left arm for three months, as mourning. A Copy—Teste,

WILSON ALLEN, C. G. C.[2]
See also
References
↑ "Virginia, June General Court, 1806," The Enquirer (Richmond, VA), June 24, 1806, 3.
↑ "In his docket book for this term of court, St. George Tucker wrote: 'June 17th. John Brown esqr. resigned his office of Clerk of the General Court, and Mr. Wilson Allen, a young man well recommended, was appointed in his stead.' Docket Book, June 1797, Tucker-Coleman Papers, Swem Library, College of William & Mary." Cited in The Papers of John Marshall, eds. William C. Stinchcombe, Charles T. Cullen, and Leslie Tobias, vol. 3, Correspondence and Papers, January 1796—December 1798 (Chapel Hill: University of North Carolina Press, 1979), 91.