Difference between revisions of "Tarpley's Admin. v. Dobyns"
From Wythepedia: The George Wythe Encyclopedia
m

m

Line 14:
Line 14:
 

__NOTOC__

 

__NOTOC__

 

[[Category: Cases]]

 

[[Category: Cases]]

 
+
 
+
---
Revision as of 13:52, 12 December 2019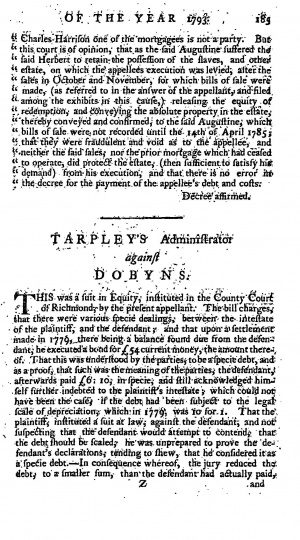 Tarpley's Administrator v. Dobyns, 1 Va. (1 Wash.) 185 (1793),[1] was a brief case where the Court settled a debt dispute between former acquaintances.
Background
Dobyns and Tarpley frequently exchanged money. However, in 1779, the two agreed to settle their accounts and determined that Dobyns owed Tarpley £54. In their settlement, the two agreed that Dobyns would repay the debt in specie and Dobyns paid Tarpley £6 in specie to acknowledge this agreement. However, when Tarpley sued Dobyns to recover the money, Dobyns argued that the debt should be subject to the legal scale of depreciation, which at the time was 10 to 1. Tarpley was surprised by this assertion and unprepared to contend Dobyn's declaration. As a result, the jury found that Dobyns owed Tarpley much less than the £6 he paid and Tarpley left the court owing Dobyns. Tarpley's administrator appealed the decision in equity at the County Court of Richmond. In response, Dobyns filed a demurrer (similar to a motion to dismiss) for want of equity. The County Court accepted Dobyns' motion and Tarpley appealed to the High Court of Chancery.
The Court's Decision
Chancellor Wythe, reaffirming the lower court, sustained the demurrer. The Court of Appeals affirmed.
See also
References
↑ Bushrod Washington, Reports of Cases Argued and Determined in the Court of Appeals of Virginia, (Richmond: T. Nicolson, 1798), 1:185.