The Life of George Washington, Commander in Chief of the American Forces, During the War which Established the Independence of His Country, and First President of the United States
From Wythepedia: The George Wythe Encyclopedia
by John Marshall
The Life of George Washington

Title page from The Life of George Washington, volume two, George Wythe Collection, Wolf Law Library, College of William & Mary.

Author
John Marshall
Editor
{{{editor}}}
Translator
{{{trans}}}
Published
Philadelphia: Printed and published by C.P. Wayne
Date
1804-07
Edition
First, first impression
Language
English
Volumes
5 volumes with atlas volume set
Pages
{{{pages}}}
Desc.
8vo (22 cm.) and 4to (29 cm.)
Location
Shelf C-2
 
[[Shelf {{{shelf2}}}]]
John Marshall (c. 1755 – 1835), was the fourth and arguably the most influential Chief Justice of the United States Supreme Court (1801-1835). Marshall holds the record as the longest serving Chief Justice in U.S. history. During his thirty-four years on the bench he helped lay the foundation of the U.S. Supreme Court as an equal branch to the U.S. government—alongside the legislative and executive branches—especially focusing on reinforcing the principle of judicial review.[1]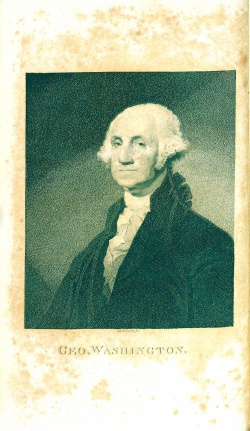 The Life of Washington was the only book Marshall wrote. Marshall published his biography as a five-volume series between 1804 and 1807. The work is based on records and papers given to Marshall by Washington's family, but has received special renown because Marshall was an actual contemporary of Washington and served with him in the Continental Army. The biography experienced immediate success because his "political acumen and his judicial equipoise were such as to give his work a great permanent importance."[2]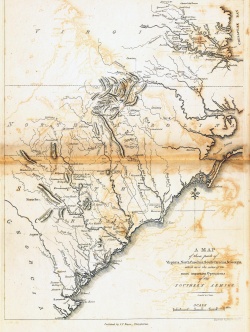 Evidence for Inclusion in Wythe's Library
George Wythe is listed as a subscriber in the atlas volume of the first edition. Thomas Jefferson inherited Wythe's copy and noted it in his inventory of Wythe's Library as Marshall's Life of Washington. 4.v. 8vo. Jefferson gave it to his son-in-law, Thomas Mann Randolph. It later appeared on Randolph's 1832 estate inventory as "'Marshall's Washington' (4 vols., $10.25 value)." Both Brown's Bibliography[3] and George Wythe's Library[4] on LibraryThing include Marshall's Life of Washington. The Wolf Law Library purchased a copy of the first edition.
Description of the Wolf Law Library's copy
First edition, first impression bound in contemporary tree calf, rebacked with original spines laid down. Spines feature red morocco title labels and green morocco volume labels with gilt lettering. Inscribed on "W. D. Bartlett" front flyleaf of volumes one, four, and five. Atlas bound in contemporary full calf with marbled boards, rebacked with original spine. Purchased from Thomas A. Goldwasser Rare Books.
Images of the library's copy of this book are available on Flickr. View the record for this book in William & Mary's online catalog.
See also
References