"Ancestry of George Wythe, LL.D."
From Wythepedia: The George Wythe Encyclopedia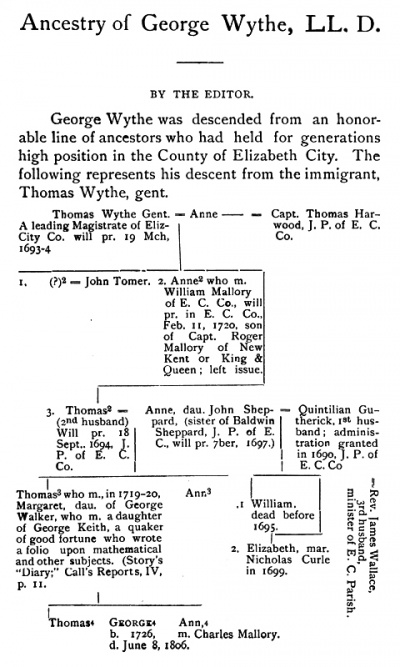 Lyon G. Tyler, editor of the William and Mary College Quarterly Historical Papers, traces the genealogy of George Wythe through records of wills in Elizabeth City County, Virginia.[1]
George Wythe (1726 – 1806) was the son of Thomas Wythe (III) and Margaret Walker Wythe. Thomas' father, Thomas Wythe (II), was married to Anne Sheppard. Thomas the Second's father, Thomas Wythe, Gentleman (George Wythe's great-grandfather), came to Virginia around 1680, and acquired the land on Back River which would become the family estate, Chesterville.[2]
George Wythe's aunt, Elizabeth Walker, married Stephen Dewey, attorney in Prince George County and, for a time, Wythe's law teacher. Wythe had an older brother, Thomas (IV, died ca. 1755), and older sister, Ann. Ann married Charles Sweeney, and their son, Daniel Sweeney, had a son named George Wythe Sweeney, after his great-uncle.[3]
Article text, July 1893
Page 69
Ancestry of George Wythe, LL. D.


---

BY THE EDITOR.

George Wythe was descended from an honorable line of ancestors who had held for generations high position in the County of Elizabeth City. The following represents his descent from the immigrant, Thomas Wythe, gent.
Thomas Wythe Gent. =
= Anne ——— =
= Capt. Thomas Har-
A leading Magistrate of Eliz-
City Co. will pr. 19 Mch,
1693-4
 
   wood, J. P. of E. C.
   Co.
1.        (?)2 == John Tomer.[4]
2. Anne2 who m.
William Mallory
of E. C. Co., will
pr. in E. C. Co.,
Feb. 11, 1720, son
of Capt. Roger
Mallory of New
Kent or King &
Queen; left issue.
 
 
 
 
 
3. Thomas2 =
=              Anne, dau. John Shep- =
= Quintilian Gu-
 
(2nd husband)   
Will   pr.  18   
Sept., 1694, J.   
P. of E. C.   
Co.   
pard, (sister of Baldwin  
Sheppard, J. P. of E.  
C., will pr. 7ber, 1697.)  
   therick, 1st hus-
   band; adminis-
   tration granted
   in 1690, J. P of
   E. C. Co
 
 
 
 
 
 
Thomas3 who m., in 1719-20,
Margaret, dau. of George
Walker, who m. a daughter
of George Keith, a quaker
 
Ann3

.1

William,
dead before
1695.

      == Rev. James Wallace,
      3rd husband,
      minister of E. C. Parish.

of good fortune who wrote
 
 
 
 
a folio upon mathematical
and other subjects. (Story's
"Diary;"[5] Call's Reports, IV,
p. 11.
 
2.
Elizabeth, mar.
Nicholas Curle
in 1699.
 
 
 
 
 
 
 
Thomas4
GEORGE4
b. 1726,
d. June 8, 1806
Ann,4
m. Charles Mallory [sic].[6]
 
 
 
 
 
 
 
 
 
 
 
 
 
 
See also
References
External links