Young v. Price
From Wythepedia: The George Wythe Encyclopedia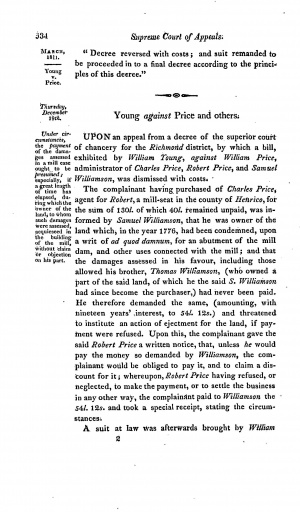 Young v. Price, 16 Va. (2 Munf.) 534 (1811),[1] was a land dispute case.
Background
For £130, William Young purchased a mill site in Henrico County from Robert Price. After a balance of only £40 remained, Samuel Williamson contacted William claiming that he was the true owner of the property. Samuel explained that in 1776 the land was condemned and that he was owed £54 and nineteen years of interest for the damage. Samuel threatened William to pay him damages or face eviction. After hearing this, William told Robert of the issue and requested Robert pay the damages. However, Robert failed to make any payments and William was forced to pay. William sued Robert in the Superior Court of Chancery for the difference between the balance on the mill site (£40) and his payment to Samuel (£54 plus interest). William also sued Samuel praying that "if he had received more than he ought, he should be directed to refund the money with interest."
The Court's Decision
On May 18th 1801, Chancellor Wythe dismissed the case for lack of jurisdiction and directed a jury in Henrico County Court to inquire into the facts. No steps were taken to empanel a jury during George Wythe's lifetime, so the succeeding Chancellor, Creed Taylor, dismissed the case with costs on September 8th, 1808.
The Court of Appeals reversed the decision requiring Samuel's heir to repay the £54 as well as court costs to William Young.
See also
References
↑ Daniel Call, Reports of Cases Argued and Determined in the Supreme Court of Appeals of Virginia, 3rd ed., ed. Lucian Minor (Richmond: A. Morris, 1854), 2:534.