Wythe to William Allason, 18 October 1770
From Wythepedia: The George Wythe Encyclopedia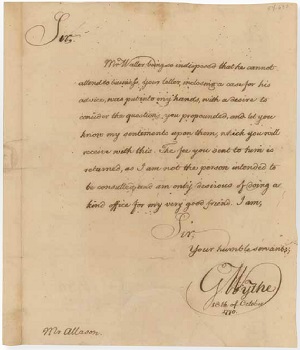 This letter is described as part of a bound set of autographs of the signers of the Declaration of Independence collected by Thomas Redfield Proctor of Utica, New York. The collection is described as: "attractively bound for him in full red morocco, gilt doublures, by Bradstreet's, with printed title-page dated 1905, printed lists of Signers and their documents, inlaid portraits, etc.," on the list of sets compiled by Charles F. Jenkins, "The Completed Sets of the Signers of the Declaration of Independence," Pennsylvania Magazine of History & Biography, IV (1925), 231 sqq.[1]
The letter is addressed to "Mr. Allason." This is most likely to be the merchant William Allason (1731-1800) of Falmouth, and later Winchester, Virginia. The "Mr. Waller" mentioned by Wythe is probably Benjamin Waller.[2]
Letter text, 18 October 1770
Mr. Waller being so indisposed that he cannot attend to business, the letter inclosing a case for his advice, was put into my hands, with a desire to consider the questions you propounded, and let you know my sentiments upon them, which you will receive with this. The fee you sent to him is returned, as I am not the person intended to be consulted, and am only desirous of doing a kind office for my very good friend. I am,

Sir,

Your humble servant,

G. Wythe
18th of October

1770.
References
↑ Proctor's set was sold at auction, Sotheby's, New York, December 13, 1995, probably to Philip D. Sang. See invaluable.com. Later purchased by Richard Newell in 2002, it was for sale again in 2012, by RR Auctions.
↑ Library of Virginia, "A Guide to the William Allason Records, 1722-1847," Virginia Heritage.